Business Profile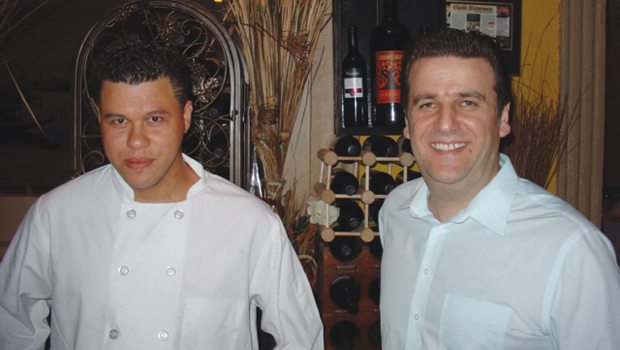 Published on September 7th, 2013 | by Aimee Fisher
0
Vicolo Ristorante
A Taste of Italy in Old Tappan
A trip to Northern Italy no longer necessitates a passport. Luckily for us, there is a delicious piece of Italy tucked away right here in Bergen County. Located in Old Tappan, Vicolo Ristorante is a friendly neighborhood restaurant that offers affordable, upscale dishes of classic northern Italian fare in all sorts of textures and flavors.
Vicolo was spawned by owner Benito Qosay in July 2011, but please call him Benny. After all, we are all family at Vicolo. The Old Tappan location was inspired by Qosay's first restaurant in Livingston, Illinois, Vicolo Ristorante, which has been operated by him and his brother since 1996. Qosay also owns Limoncello Ristorante, in Waldwick. While all three specialize in fresh Northern Italian fare, each has its own zest of uniqueness. Qosay learned the trade from helping his parents at their Italian restaurant from the tender age of 10.
The Vicolo experience is like dining in Italy without having to buy the plane ticket. There is plenty of wonderful authentic fare to choose from, such as a traditional fresh tomato sauce with hot chili pepper bathing a seafood medley of clams, muscles, scallops, jumbo shrimp and grouper over black linguini. The featured fresh whole fish of the day includes branzino and orate, both fresh from the waters of the Mediterranean, as well as Florida snapper. The unbelievably fresh mozzarella, featured on the baby arugula salad, is imported straight from Italy, as are the coffee beans and the chef himself.
Chef Miguel Angelo is originally from Torino, Italy. He was recruited and bought over to The States by Qosay upon completion of culinary school. After six years, Qosay and Angelo still have diners convinced they are really in Italy. The complimentary homemade sopressata and the aged creamy balsamic house dressing are a just taste of the talent in the kitchen. While the menu provides a delicious blueprint, the specials are an opportunity to take advantage of Angelo's ability to delve even deeper into the palate.
Homemade ravioli and osso bucco are two customer favorites. Clams stuffed with lobster, breadcrumbs and scampi sauce make for a delightful appetizer. Imagine an entrée of short ribs braised for three or four hours in a brolo wine sauce over saffron risotto that melts right off the fork. And save some room for dessert. The tiramisu and strawberry or banana flambé are not to be missed. Of course, no meal is complete without complimentary homemade grappa in peach, cherry or plum.
While the food is worth the trip, it is the ambiance and the sense of community that make Vicolo stand out. Qosay greets customers seven days a week with a smile and a kind word. The happiness and comfort of his clientele are his top priorities. To him, those that dine with him are family. Why Old Tappan? he smiles. "I love this area's friendly people. That's the main thing." Pianist Fred Golz wows patrons up and down the keys on Friday nights. Saturday nights feature opera singer Estere Diva.
Location: 216 Old Tappan Rd., Old Tappan, NJ. For more information, call 201-497-8777 or visit VicoloRistorante.com.