Spotlight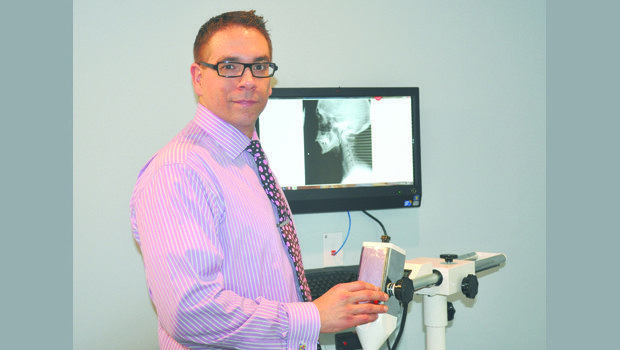 Published on October 30th, 2013 | by Natural Awakenings Staff
0
Precision Upper Cervical Center
Upper cervical chiropractic uses procedures that maintain head and neck alignment, which in turn allows the brain to communicate efficiently with all parts of the body without interference. "When the head is not positioned correctly, this blocks the communication of healing and regulating messages between the brain, cells, tissues, organs and muscles, causing 'body imbalance' that can result in a variety of functional challenges, as well as painful conditions," he explains.
The focus of upper cervical corrective care is the atlas, or C1, vertebra, a small, two-ounce bone located directly under the head that connects it to the rest of the spine. The atlas vertebra supports the 10-to-15-pound weight of the head and proper neurological function most efficiently in what's called the orthogonal, or neutral, position. Bello says that because C1 is the only vertebra without locking joints, when it is subjected to stress or strain—caused by trauma, such as car accidents, sports injuries or falls, or by constant poor posture or incorrect lifting—it may be pushed out of alignment. This can eventually disrupt the normal performance of the nervous system, which coordinates the body's millions of functions. The disruption then plays a role in a multitude of symptoms and pain in different areas of the body.
People regularly ask Dr. Bello, "I have low back pain, how will adjusting my neck help my low back?" Dr. Bello states that if the neck isn't precisely aligned, the low back can never experience complete relief. The upper cervical misalignment causes compensations (tilted head, one high shoulder, rotated hip, etc.) that result in the whole body becoming distorted. Unless the head and neck are restored to their proper positions then the low back won't have a chance to function properly. "This is exactly why many of my patients have gotten low back relief after a long road of failures at other chiropractors, physical therapists, acupuncturists etc.
To help restore function, alleviate pain and provide long-term correction, Bello uses an approach called Advanced Orthogonal. The procedure uses a state-of-the-art instrument to focus on returning the head, neck, spine and pelvis to their proper positions, which then restores body balance and allows the brain and body to communicate at maximum capacity. "When this occurs, optimum function is possible," Bello explains.
The procedure is not a new one—it's been around since the 1970s—but it has only recently gained more exposure, thanks to television programs like The Doctors and The Montel Williams Show. "Patients who have sought care with medical doctors, physical therapists and traditional chiropractors with no real relief are finding complete relief with this method," comments Bello. "The best part is that it's painless, and there's no twisting, cracking or popping."
Some misalignments are only millimeters; therefore, precision is a crucial element of the procedure. Extremely accurate measurements of the angle of the atlas form the basis of the treatments. Detailed X-rays are taken to identify exactly how the atlas is displaced, and then a treatment formula is created to align the bone into the correct position. Bello says each individual's misalignment and correction is as unique as their fingerprints.
To correct misalignments, Bello uses an advanced instrument created by Georgia Tech engineers that can accurately reposition the atlas vertebra without pain or pressure. "The method is so gentle and non-invasive, most people do not even realize they've been aligned," he notes.
Seeing people's lives change right in front of him is an inspiration to Bello. "We help people with a litany of health challenges, but I have seen the biggest miracles." One moment he says will always be etched in his mind is when a 16-year-old boy came to the office. Following a series of accidents, he was in a wheelchair. The teen could use his legs, but his balance was way off, making it difficult to stand. After one adjustment, the boy walked out of Bello's office.
Precision Upper Cervical Center of New Jersey is located at 20 Franklin Turnpike, Ste. 218, in Waldwick. For information, call 201-857-5050 or visit PrecisionCareNJ.com.