Business Profile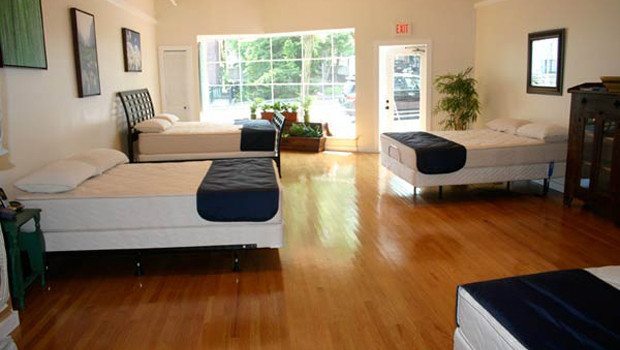 Published on February 13th, 2014 | by Natural Awakenings Staff
0
Why We Need an Organic Mattress
Healthy Choice Organic Mattresses, in Ridgewood, was founded with a mission to become the leader in the natural mattress business. It is a socially responsible company committed to offering the healthiest, most comfortable and highest quality mattresses on the market. Founder David Spittal believes that in order to be a truly successful business, it must continually seek to improve the lives of its customers and employees while always considering its impact on the local community and the world's environment.
What is an organic mattress?
Almost all mattresses on the market today are made with some combination of polyester fibers, polyurethane foam and wire springs. An organic mattress is one that is made using only natural or certified organic materials to provide a healthy, non-toxic sleep environment.
Healthy Choice combines only three ingredients: all-natural latex, certified organic cotton and pure, organic wool. Other companies claim to sell "eco-friendly" mattresses, but they most often have some significant amounts of polyurethane foam and polyester fibers. These crude, oil-based materials are anything but eco-friendly or non-toxic.
What's the difference between a Healthy Choice organic mattress and a conventional mattress?
Perhaps the most underappreciated aspect of our organic mattresses is how durable they are. All-natural latex, the primary component of Healthy Choice mattresses, is the highest quality, most resilient material available for mattress making. In fact, wire springs and polyurethane were developed as cheap alternatives to latex decades ago. A typical innerspring mattress, with its chemically produced padding, will last about eight years. It will then be discarded into a landfill, where it will sit for literally thousands of years. Mattresses made with all-natural latex will last three times longer (at least 25 years), and then they will biodegrade in a landfill after only a few years when exposed to the elements.
Does the consumer have to make any compromises?
No, pricing is similar to name brand innersprings or memory foam mattresses. Our manufacturing process creates a mattress that is more comfortable and supportive and will typically outlast traditional as well as other organic mattresses. You spend one-third of your life on your mattress. Why wouldn't you want that time to be spent in a beautifully clean and healthy environment, rather than breathing in and absorbing whatever toxins may be coming out of a bed bought somewhere else?
Why do you support local businesses?
I believe it still possible to build a successful business with a social conscience. A big part of that for me is supporting the local community. Consistent with this strongly held value, we manufacture all of our mattresses right here in Bethany, Connecticut. Our primary ingredient, all-natural latex, comes from Shelton, Connecticut. We hire local people to work in our showrooms and deliver our beds. We believe we have the lowest carbon footprint among all mattress companies.
How should a customer go about selecting a mattress?
It's all about comfort. We have six different models to choose from. They are all organic and have the same unparalleled quality. But, depending on your body weight, shape and preferred sleep position, one mattress may feel better than another. Your best bet would be to come into one of our showrooms and try them out. You will be amazed at the comfort and are guaranteed to find one that is right for you.
Because we don't use wire springs in our mattresses they are flexible and work beautifully on adjustable bases. Many people these days are buying adjustable beds as a great way to address health issues such as breathing problems, back problems, circulation issues and acid reflux. We sell adjustable beds as an upgrade to any of our mattresses.
We also sell a full line of organic accessories that include pillows, toppers, mattress pads, and comforters. These beautiful, high-quality products are also made in the U.S. and manufactured using only organic wool, organic cotton and all-natural latex.
If you could buy a non-toxic, eco-friendly, more comfortable, much longer lasting mattress that is comparably priced to a traditional mattress, while also supporting a great local business, why on Earth wouldn't you?
Healthy Choice Mattresses is located at 14 Wilsey Square, in Ridgewood. For more information, call 201-857-3245 or visit hcmattress.com.