Business Profile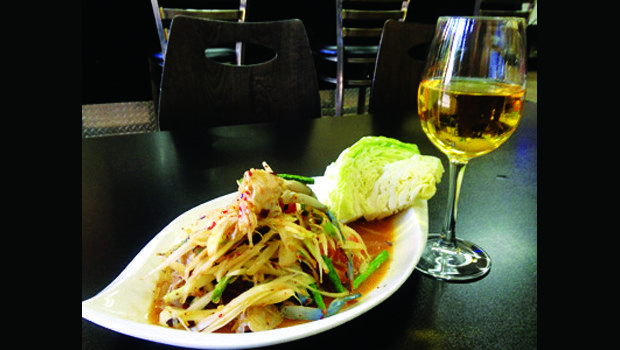 Published on June 1st, 2014 | by Natural Awakenings Staff
0
Pat Thai Inaugural Wine Tasting Kickoff for Organic Villa Milagro Vineyards
Popular Pat Thai Restaurant, in Lake Hiawatha-Parsippany, has made a new addition to its authentic Thai cuisine—Villa Milagro Vineyards—which offers wines for sale to pair with their fine cuisine. While rice wine is traditional in Thailand, owner Angelica "Pat" Hocek says that Villa Milagro offers a variety of wines that distinctly complement her menu. "Villa Milagro's European-style wines pair nicely with our classic Thai seasonings and ingredients," says Hocek.
Winemakers Steve and Audrey Gambino, from Villa Milagro Vineyards, will be on hand from 6 to 8 p.m., June 19, for a wine cocktail party to introduce their vintages. Participants will have the opportunity to sample Old-World-style wines produced locally. Traditional Thai food appetizers and entrée samplers will be served to complement each wine.
The wine at Pat Thai is offered under a new state law that allows restaurants that do not have liquor licenses to partner with a New Jersey winery to offer wine for sale at the restaurant. Pat Thai will continue to allow customers to bring their own beverages, but will have Villa Milagro Vineyards wines on hand for those that forget or want to enjoy wine made in the Garden State.
Villa Milagro Vineyards is located along the banks of the Delaware River, in Warren County, New Jersey. The vineyard grows 10 varieties of wine grapes using organic and sustainable practices. Harvested by hand and slowly fermented to retain their fruity aromas, winemaker Audrey Cross-Gambino blends wines to create distinct and unique flavor profiles. "Wine is food, and should complement, rather than compete with other elements of the meal," she states. "We are thrilled to offer our wines at Pat Thai. We share a common love of good eating and good health with Pat."
Pat is devoted to healthful living and with her husband, Jerry, publishes Pat Thai Inaugural Wine Tasting Kickoff for Organic Villa Milagro Vineyards the North New Jersey edition of Natural Awakenings magazine. Born in Surin, Thailand, Pat came to the U.S. to begin her career in the restaurant business, and in 2002, opened the original Pat Thai restaurant in Bloomfield, New Jersey. Nicknamed the "Thai soul kitchen," the restaurant gained a cult-like following of loyal customers, and soon outgrew the space.
To expand its capacity, Pat Thai moved to its current location at 435 North Beverwyck Road, in Parsippany, in 2007. Pat and her mother prepare their signature dishes, fused with lemongrass, Thai basil and other traditional seasonings and offer spice levels ranging from 1 (just a pinch) to 10 (call firemen to stand by!). The restaurant is a popular lunch site for staff from nearby corporations and for bridal showers, family gatherings and other celebrations. "Because wine is such a celebratory drink," says Pat, "we are thrilled that our diners can now enjoy it with their meals."
Cost for the wine tasting is $30 in advance/$35 at the door. Location: 435 N. Beverwyck Rd, Parsippany, NJ. Order online at PatThai.net or call 973-257-1444. For more information about Villa Milagro Vineyards, visit VillaMilagroVineyards.com.