Recipe Corner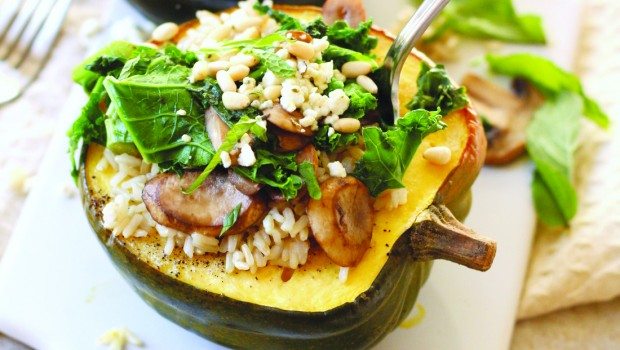 Published on January 16th, 2016 | by Natural Awakenings Northern New Jersey
0
Acorn Squash Stuffed with Kale, Mushrooms and Rice
Yields 2 servings
1 acorn squash
1 cup wild rice
1 clove garlic
1 cup, diced mushrooms 1/2 cup, diced onions
1/2 cup dried cranberries 1 cup cut up kale
1/4 tsp ground sage
1 Tbsp olive oil
1/4 tsp thyme
1/4 tsp salt
1/4 tsp pepper
1/4 cup toasted pumpkin seeds
Preheat oven to 400 degrees.
Carefully cut the acorn squash in half using a very sharp knife, then scoop out the seeds. Score the inside of each half with a knife in a criss-cross pattern and sprinkle with salt and pepper. Put each half face down on a baking sheet with about 1⁄4 inch of water on the bottom so the squash doesn't stick or dry out in the oven. Roast for about 50 minutes.
Bring 2 cups water to a boil in a pot for the rice. Begin cooking the rice while the squash roasts.
In a saute pan, heat the olive oil and then add the mushrooms, onions. When softened, add the kale and allow to wilt.
When the rice is done cooking, add the veggies to the pot as well as the dried cranberries and spices. Stir to incorporate everything together.
When the squash is done roasting, remove from the oven and stuff with the rice mixture. Sprinkle with toasted pumpkin seeds.
Most of the ingredients can be substituted for whatever you have on hand. Quinoa, sorghum, or any other grain can be used in place of the wild rice, and spinach, arugula, etc. can be used in place of the kale.
Recipe compliments of Kale & Co., which delivers fully cooked, plant-based meals to home or office. For more information, call 201-771-0127, email Info@livekaleandco. com or visit LiveKaleAndCo.com.