Spotlight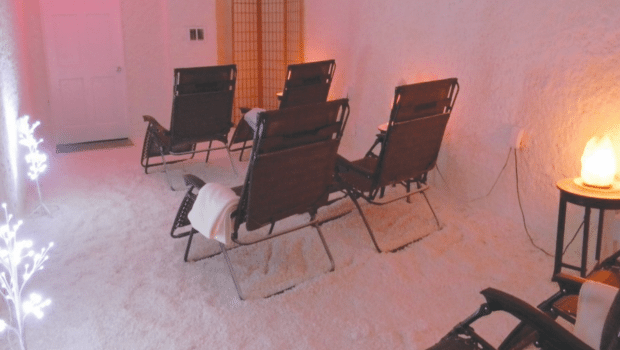 Published on February 5th, 2016 | by Brielle Bleeker
0
Himalayan Salt Room Treats Respiratory Ailments Naturally
Salt therapy has been treating ailments such as bronchitis, asthma, cough, eczema and sinusitis for more than 100 years. It is a non-invasive, natural therapy without the side effects of drugs commonly prescribed to treat these ailments.
Salt therapy, also referred to as halotherapy, reproduces the native climate of a salt cave in Eastern Europe. After sitting in the salt room and breathing in the salty aerosol, bacteria and pollutants found in the respiratory tract will dissolve, improving lung and breathing functions. Countries including Hungary, Poland, Austria and Romania have had successful treatment rates for patients utilizing salt therapy.
Not only have health improvements been witnessed, but a decrease in medical drug usage has been evident.
Those interested in trying this unique therapy need look no further than the Salt Cavern, in Clifton. Opened five years ago, the location recreates a salt cavern using all natural Himalayan salt with 84 trace mineral elements. The standard treatment protocol is 45 minutes in the salt therapy room two times per week, but a schedule can be tailored to meet individual needs. Co-owner William Dunai says, "People who want to spend more time in the room can attack the problem more aggressively."
Although still a relatively new therapy idea in the U.S., interest and popularity in salt therapy are growing. Salt, long known for its antibacterial and antimicrobial benefits, offers relief to those seeking alternative treatment to ailments traditionally treated with prescribed or over-the-counter medications. The cavern is designed to provide a relaxing experience as clients recline in lounge chairs while a generator is used to break the salt down into tiny particles, and new salt is constantly added. The experience is often considered spa-like and has many de-stressing and relaxing effects.
"The more time you spend in the room, the more you'll benefit," notes Dunai. Clinical studies have been conducted demonstrating results after a series of treatments. For those looking for a new, holistic approach to treat infections or long-term respiratory problems, or for those looking for a relaxing experience to maintain health, the Salt Cavern may be just what is needed.
The Salt Cave is located at 654 All- wood Rd., in Clifton, NJ. For appointments, call 973-928-2229 or visit TheSaltCavern.com.
Brielle Bleeker is frequent contributor to Natural Awakenings magazine.