Quotes
Published on June 1st, 2016 | by Natural Awakenings Publishing Corp.
0
June Inspirational Quotes
The word 'happiness' would lose its meaning if it were not balanced by sadness.


~Carl Jung
The most important thing is to
enjoy your life—to be happy—it's all that matters.
~Audrey Hepburn
The only thing that will make you happy is being happy with who you are, and not who people think you are.
~Goldie Hawn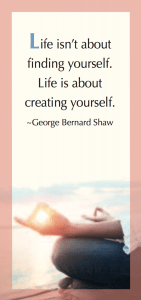 The foundation stones for a balanced success are honesty, character, integrity, faith, love and loyalty.
~Zig Ziglar
When you are balanced and when you listen and attend to the needs of your body, mind and spirit, your natural beauty comes out.
~Christy Turlington
It is easier for a father to have children than for children to have a real father. ~Pope John XXIII
If you obey all the rules you miss all the fun.
~Katharine Hepburn
All art is but imitation of nature. ~Lucius Annaeus Seneca

Leap, and the net will appear. ~John Burroughs
Anyone can hold the helm when the sea is calm.
~Publilius Syrus
Love looks through a telescope; envy, through a microscope.
~Josh Billings