Feature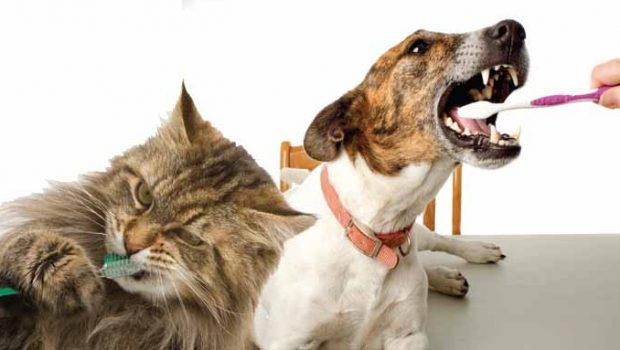 Published on November 30th, 2018 | by Mia Frezzo
0
Proper Oral Care for Pets is Essential
by Mia Frezzo
We have all heard the expression, "Ignore your teeth, and they will go away." This statement is true for pets, as well as humans. By keeping our pet's teeth clean and healthy, we directly extend their life.
Oral bacteria leads to gingival inflammation, tartar accumulation, periodontal disease and tooth loss. Early stages of gingivitis and dental disease are reversible in pets with routine dental cleanings, very much like our own. But as dental disease progresses beyond gingivitis, it is no longer reversible. Oral bacteria enter the bloodstream, eventually leading to whole-body infection and inflammation. As a result, the overall weakened immune system typically results in a higher infection rate throughout the pet's lifetime.
Circulating bacteria may lead to increased risk of cardiovascular disease, respiratory illness, eye and facial infections, poor control of diabetes, hypertension and more. Additionally, dental disease is painful for the pet and sometime even debilitating if left unchecked. Advanced dental disease may interfere with a pet's ability to eat comfortably, carry toys or play as they normally do. Many veterinarians and owners alike have witnessed myriad geriatric dogs and cats rejuvenated and enlivened following a thorough dental cleaning.
Brushing our pets' teeth daily is an ideal way to reduce tartar accumulation. For many pets, this practice is most effective following a dental cleaning. For those pets that may not accept tooth brushing, or for those that find it difficult to make such a commitment, there are alternative means to care for our pet's teeth such as feeding them a high-quality, dry diet. Proper nutrition is especially important for dogs.
Incorporating a veterinary water additive to pets' drinking water, such as an enzymatic oral solution for dogs, will freshen breath as it reduces plaque build-up. Weekly use of anti-tartar gels is also becoming more common. Most pet owners find that once they start a routine, they can manage and continue a weekly oral care regimen more easily.
It is also essential to support our pet's immune system and organ function with medical-grade essential oils, because they may provide even greater health benefits to our furry friends than the owners. It is also essential to have our pets' teeth examined twice yearly as part of their routine physical exam. With good oral care,  a pet will naturally live a longer, happier and healthier life.
Remember, our pets cannot communicate that they have a toothache, but a seasoned veterinarian can detect the problem early enough to save the animal from much pain and suffering. Regular oral checkups can also prevent greater medical expense associated with long-term, undiagnosed dental problems.
Dr. Mia Frezzo is an integrative veterinarian and owner of the Animal Hospital of Hasbrouck Heights, located at 180 Boulevard, in Hasbrouck Heights. For more information or to schedule an appointment, call 201-288-7800 or visit VetInHeights.com.