Community Spotlight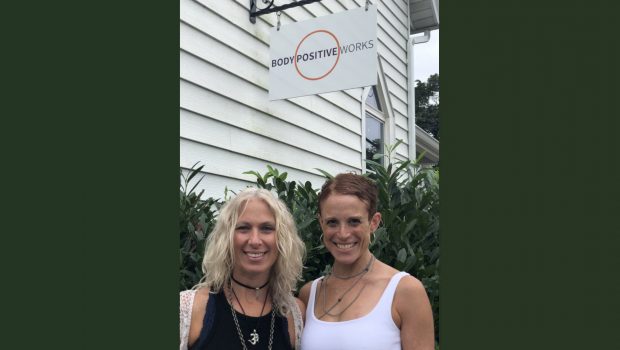 Published on February 22nd, 2019 | by Natural Awakenings Northern New Jersey
0
Creating Miracles of Perception at Body Positive Works
by Nayda Rondon 
When clients enter Body Positive Works, they immediately feel embraced, and that's just how owners Jen Kraft and Melanie Struble want it. As the founders of this holistic haven in Saddle River, they've worked to create a safe, compassionate space for healing and development that vibrates with positive energy, empathy, laughter and fun.
Located in a century-old parish house that's been completely resurrected into a bright and airy sanctuary, Body Positive Works is an inclusive space where people can shed their insecurities and go to heal, improve and explore alongside like-minded practitioners. There are no intimidating mirrors, judgments or a competitive and guilt-inducing environment—just a supportive and empowering community that will guide and inspire them to be their best self—physically, mentally and spiritually.
At the heart of this community are Kraft and Struble. They met through a mutual friend and bonded over their shared commitment to help people feel better in their bodies. Determined to do just that, they opened Body Positive Works in 2016. Now, Bergen County's only integrative wellness center focuses on body positivity and self-acceptance as it supports those at risk for or recovering from an eating disorder, eating issue, negative body image, addiction or anxiety/depression.
"There's no institutional feel here. It's upbeat, lively and full of smiling faces. We're dedicated to fostering a sense of belonging and acceptance," says Struble. "We offer a safe space where people can be their authentic selves; a place where we can celebrate ourselves, our bodies and our lives."
Both women emphasize that Body Positive Works is for everyone. "You don't have to have a diagnosed eating disorder or addiction to come here," explains Kraft. "Anyone can come. Everyone has struggles about something. No one is perfect. You're great as you are. You just might need the extra support to realize that you're enough.'
To help them on their journey, there's an expansive range of offerings—reiki, massage, counseling, nutrition, yoga, belly dancing, meditation, Pilates, chiropractic, sound therapy, ayurveda, support groups and special events—taught by caring, experienced instructors. Chief among them are Kraft and Struble.
Struble is a licensed clinical social worker and licensed clinical alcohol and drug counselor with more than 25 years of experience, and  provides individual, group and family psychotherapy for children adolescents and adults with a particular focus on eating disorders, body image, addiction and adolescent issues.
Kraft has a marketing background; she first began her yoga practice at age 39 to address physical knee issues. After quickly realizing and benefitting from the power of yoga to impact her own self-image issues, she knew she'd found her passion and purpose and became a certified yoga instructor who specializes in yoga for eating disorders and negative body image. In her classes, Kraft helps students hear their bodies' signals and adjust the practice to their unique needs; the emphasis is on the purpose of the poses and how they feel, rather than how they look.
"We spend too much time being unkind to ourselves, and our negative thoughts have tremendous power," Struble notes. "Body Positive Work's services and programs are like a 'makeover for the mind', helping to transform the way you think about your body and yourself."
"It's a place where people feel safe being vulnerable," Kraft says. "One client who recently came out of an addiction treatment program and who takes advantage of several of our services said that Body Positive Works saved her life. Clients say they have never felt comfortable going to a yoga class before us, or felt they weren't calm, flexible or thin enough to practice yoga before us. Others who have practiced yoga said they never understood the practice until Body Positive Works."
The pair's goal is to banish the stigma attached to talking about eating disorder, addiction and anxiety/depression and help people change their perception regarding the idea of a perfect body or perfect life. "We are enough. Right now, exactly as we are—not when we lose weight or get plastic surgery," says Struble. "Here, there is no competition. No goal to achieve. And absolutely no body shaming."
"If we can help people in our community—starting with young children and going all the way up the life span—realize that their worth is in who they are has nothing to do with a number on the scale or material success, then we have done what we set out to do," Kraft advises. "Any change in perception is a miracle."
Body Positive Works is located at 96 E. Allendale Rd., in Saddle River. For more information, call 201-708-8448, email Info@BodyPositiveWorks.com or visit BodyPositiveWorks.com.
Nayda Rondon is a writer for Natural Awakenings magazine.