Uncategorized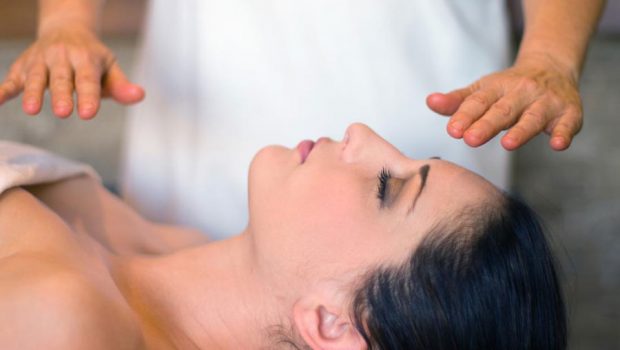 Published on May 30th, 2019 | by Ashley Di Capri
0
Inexplicable Reiki Gets Results
by Ashley Di Capri
Eileen Alexander, a reiki master practitioner and teacher, life and grief coach and yoga teacher, has been practicing reiki for eight years and has worked at Body Positive Works since its opening in November 2016. As a Usui reiki master teacher, Alexander offers Reiki 1, Reiki 2 and Reiki Master training in addition to private sessions.
Her practice is a medley of holistic offerings tailored to meet each individual where they are and support them in finding balance, peace of mind and body and personal empowerment. Her offerings include reiki, yoga practices such as restorative and kundalini, breathwork, meditation, conversation and other healing practices. She also teaches reiki to those interested in empowering themselves through self-healing.
The practice of reiki is at the forefront of Alexander's passion. It is a simple healing technique used to bring balance and healing to the body, mind, emotions and spirit. It is a path inside, to peace and self-empowerment and taking charge of physical and emotional well-being. It is gentle and non-invasive, involving the movement of energy through the body by way of gentle touch or hovering the hands above the body.
Alexander discovered reiki after her oldest daughter passed away. She says, "I was so lost, and began to experience regular bouts of depression, anxiety and severe panic attacks. Being a member of a 12-step recovery program, I knew drugs were not the answer for me. In my quest to find other ways to regain control of my life, my peace and my sanity, I found reiki. During my first treatment, tears began to flow and I felt some hope. I began regular treatments and took reiki training. I incorporated reiki into my meditation and yoga practice. My anxiety and depression quickly began to lessen and my outlook on life began to brighten. I had more energy and was able to sleep most nights. I began to heal."
Because of the profound effects reiki, Alexander experienced from reiki, she left the legal field six years ago to share these practices with others on a full-time basis. She has seen amazing results in the lives of many, and notes that reiki is offered at some hospitals as a holistic complement to conventional medicine and psychological treatment. She says, "Many doctors express that while they don't fully understand how it works, they cannot deny the results they see in their patients."
Reiki is safe, simple, empowering and accessible to anyone and everyone. It has been shown to relieve symptom and support general health by releasing stress, bringing a sense of balance and ease, and overall well-being. It is helpful in releasing patterns that keep us stuck in the myriad addictions present in our society, including eating disorders, and to support a more peaceful relationship with our bodies and our life's circumstances, supporting relief of insomnia and depression.
During a reiki treatment, the subject lies on a massage table, fully clothed, while the practitioner lightly places their hands on or over different areas of the body. Often, people feel a sense of deep relaxation—an almost meditative state—while others feel subtle sensations, often in the form of heat or tingling. Some see colors or pictures in their mind's eye. Some experience immediate results during or after a treatment, while others experience healing shifts over time. Everyone's experience is a bit different , as reiki naturally adapts to each individual's needs.
Body Positive Works is located at 96 E. Allendale Rd., in Saddle River. For more information or to schedule a session, call 201-708-8448, email Info@BodyPositiveWorks.com or visit BodyPositiveWorks.com.