Uncategorized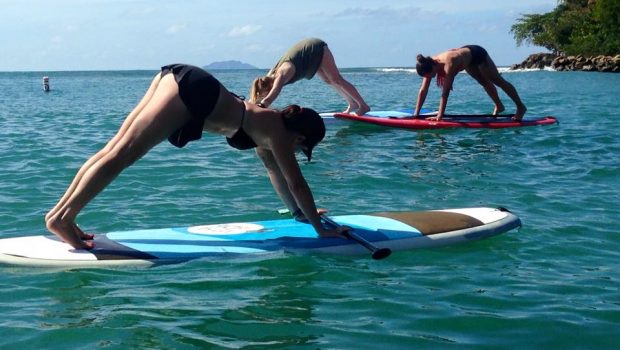 Published on August 31st, 2019 | by Karim Orange
0
Let Your Spirit Pick Your Yoga Practice
by Karim Orange
The traditional definition of yoga is a Hindu spiritual and ascetic discipline, a part of which, including breath control, simple meditation and the adoption of specific bodily postures. Modern-day and trending yoga has evolved to mix traditional roots with updated cultural and generational perspectives. Andrea Powers, inventor of Yoga Balance Board and the owner of Powers Yoga Studio, in Bergen County, discusses emerging yoga trends and how to pick a practice.
How did you begin your yoga path?
I started practicing, unknown to me, at the young age of 5. I began meditating and connecting with energy. On one occasion while listening water running I asked what my purpose was. I heard a clear voice reply, "You are a healer". I will never forget that moment. I officially got into the physical practice of yoga in Los Angeles at the age of 20. At the time I was a runner, and I hurt my spine and could hardly walk. I disliked my first class. It was intimidating and I walked out after doing only three poses. I awoke the next morning and intuitively knew I needed to do more yoga. With an athlete attitude and mindset of self-motivation, training, and focus, I was determined to train in yoga. I knew this is what my body needed. I trained daily mentally and soon became a 200-hour certified yoga teacher.
What do you think about the evolution of yoga?
I love it, but this can be a touchy subject in the yoga community, as many feel the modern forms dilute the traditional teachings of yoga. Many beginners can be intimated by yoga. The modern versions open doors for people to experiment, where they might have never tried it otherwise. The new trends can be viewed as a gateway, and when the individual is ready, they can seek other styles. I have always been spiritually connected to water. Taino Indian blood flows through my veins. We are water-fearing, peaceful people. It was very natural for me to embrace paddleboard yoga and connecting to water. I always said that if I could teach a yoga class to anyone, it would be Jesus. There is no coincidence for me that he walked on water. I believe he would be a natural student, and my spiritual connection to him is strong. In my classes, I teach my students to become like water and just flow. In the water, we can become any form we need. As Bruce Lee said, "If you put water into a cup, it becomes the cup. You put water into a bottle and it becomes the bottle. You put it in a teapot, it becomes the teapot. Now, water can flow or it can crash. Be water, my friend." My latest water connection is leading me to teach group on it. I am facilitating a yoga brunch cruise next month with top yoga teachers from New York City.
Someone else might love the heat, so naturally, their spirit might feel comfortable in Bikram yoga. This practice of yoga incorporates a 26-posture sequence in a room heated to 105 degrees. Founded by Yogiraj Bikram he began doing yoga age of 4 with Bishnu Ghosh whose older brother Paramahansa Yogananda wrote The Autobiography of a Yogi, and is the founder of the Self-Realization Fellowship. At 17, Bikram encountered a knee injury and doctors told him he would never walk again. He went back to his yoga teacher, who helped him heal his injury. In my opinion, healing evolves the spirit. From this situation, Bikram Yoga was born, but at that time it was considered trendy and unconventional.
Kundalini yoga might be for someone whose spirit feels balanced from breathing. You also have trends like dance yoga popping up all over the country. This yoga is a fusion of music, rhythm, and dance. Asanas are performed to a drum, chant or even a full band. There are even yogi DJs and MCs nowadays. Dancing in most cultures has a connection to the spirit. It is one of the most freeing things a person can naturally do. This is a perfect way for someone intimidated by traditional yoga to work backwards into it.
What would you say to aspiring students just starting out?
Picking a yoga practice that works best for us might seem a bit overwhelming. Take time and listen to your body and spirit. Write down the words that describe what you feel you're looking for in a yoga practice, such as slow, rhythmic and empowering. The universe will reveal what will suit you best.
Powers Yoga Studio is located at 66 W. Main St., in Bergenfield. For more information about the yoga studio, call 201-906-9040, or visit PowersYoga.com. For more information about the Yoga Brunch Cruise, visit YogaBrunchCruise.com.