Publisher's Letter
Published on December 31st, 2019 | by Jerry & Pat Hocek
0
Dream It and Begin It
As we move into the year 2020, once again it's time for those well-intentioned New Year's resolutions. Ahhh… the stuff dreams are made of, or at least they should be. November 2019 was our seven year anniversary of publishing this Northern New Jersey edition of Natural Awakenings. It's evident that I can publish a magazine and at times deliver some fairly entertaining publisher letters. So, why not try my hand at publishing a book? I decided to do just that several months ago, and the project has been taking on a life of its own ever since.
First the book's theme showed up, and then the book title. Next, the idea for the cover image and the cover layout. And now, I'm set to begin writing my book in early January. Upon deciding to commit to this endeavor, circumstances began shifting and I soon found myself with the prospect of having plenty of time to start writing come the new year. As I write this letter, we're currently five days away from Christmas, and the open road is just around the bend for me. Stay tuned for a big announcement in the February issue.
To attain what is typically unattainable by the masses, we must take risks in life. We are all responsible for carving out whatever life story we subscribe to. However, we also have the power to change that story or even drop all the stories we tell ourselves at any time. Beliefs change, and so does what we desire to do or have. If you want something new in your life, then simply make a commitment to attain it, figure a basic plan for its attainment and get yourself bold enough to make the commitment to go after it… now. Not later. Now… and if you find yourself veering off course, have this quote below taped to your fridge and read it to yourself once or twice a day, so you don't forget were you were heading.
"Until one is committed, there is hesitancy, the chance to draw back, always ineffectiveness. Concerning all acts of initiative and creation, there is one elementary truth, the ignorance of which kills countless ideas and splendid plans: that the moment one definitely commits oneself, then providence moves, too.
All sorts of things occur to help one that would never otherwise have occurred. A whole stream of events issues from the decision, raising in one's favor all manner of unforeseen incidents, meetings and material assistance which no man could have dreamed would have come his way.
Whatever you can do or dream you can, begin it. Boldness has genius, power and magic in its Begin it now." ― William Hutchison Murray
Wishing you all the best for the new year!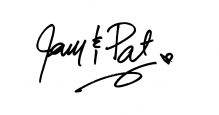 Jerry Hocek and Angelica Pat Sanshompoo, Publishers