Health Briefs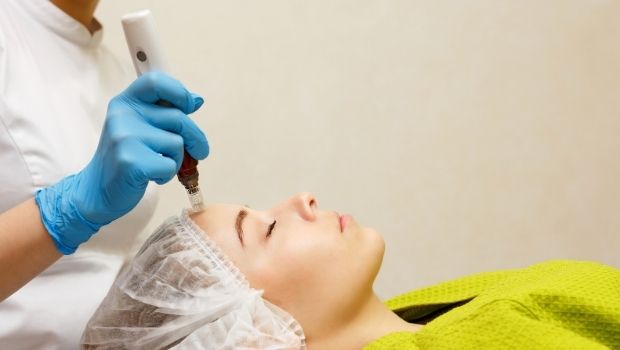 Published on September 30th, 2020 | by Natural Awakenings Publishing Corp.
0
Microneedling Offers Health Benefits and Convenience
Microneedling, also known as collagen induction therapy (CIT) is the practice of inserting extremely fine needles into the skin at a minimal depth for the purpose of tissue rejuvenation. The concept is simple—create a "micro" wound and the skin will respond by producing collagen and elastin, creating new skin cells. This in turn smooths, firms and brightens the skin, similarly to Botox.
Depending on the depth of penetration, microneedling can be used to treat and improve conditions such as fine lines and wrinkles, loose skin, acne, scars, stretch marks, under-eye bags and issues pertaining to skin texture and pigment. Microneedling can even be applied to the scalp to promote hair growth.
The modality has gained in popularity because it is a minimally invasive, gentle and painless procedure that produces profound results in many cases. Unlike ablative cosmetic treatments like microdermabrasion, microneedling accesses and activates the dermis level of the skin (where collagen is produced) without removing or severely damaging the epidermis; the protective and essential barrier level of the skin.
Microneedling creates micro-channels in the skin and allows amplified product absorption. When used in conjunction with topical hyaluronic acid, a lubricating substance produced by the body which holds 1,000 times its weight in water, the result is deep hydration and nourishment of the tissue, and an accompanying glowing visage.
Not surprisingly, all of the buzz around microneedling has given rise to a plethora of cheap microneedling devices for at-home use, both motorized and not. Instead, seek the services of a qualified professional using a device that includes a motorized, oscillating microneedling pen with adjustable needle depths and up to 10,000 rpm. Many of the at-home motorized devices vibrate rather than oscillate, which can cause drag on the surface of the skin and increase the risk of scarring and infection. Similarly, derma-roller devices are not ideal for the same reasons.
The importance of impeccable sanitizing can not be overstated. In a provider's office clients should expect a brand-new, sterile needle cartridge for each microneedling treatment, whereas home devices tend to come with only one or two needle tips that the consumer is responsible for adequately sanitizing or continually replacing. Without proper sterilization, reused needles can spread bacteria across the skin and even introduce it below the surface, promoting acne, infection and inflammation.
A growing number of medical and skincare professionals offer microneedling, so don't take chances at home. The investment is a sound one; treatment is only recommended once a month for a period of four to six months on average, and results can last as long as four to six years without maintenance.
Hillary Wells, MS, L.Ac, is a NY-licensed acupuncturist offering Japanese-style acupuncture and holistic facial rejuvenation at Salt of the Earth Center for Healing, in Chestnut Ridge, NY. For more information, visit SaltOfTheEarthcfh.com.