Recipe Corner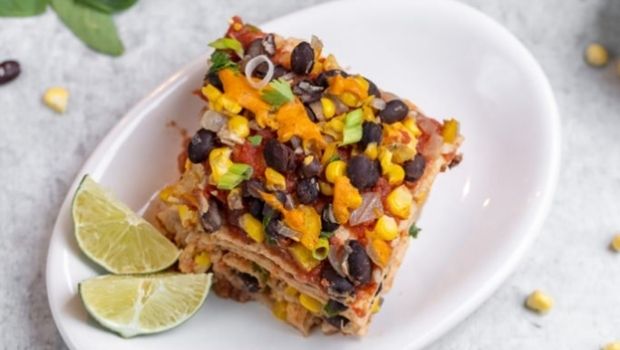 Published on May 31st, 2021 | by Natural Awakenings Publishing Corp.
0
Vegan Blue Corn Lasagne
This is actually an easy-to-make enchilada casserole that can be made with a variety of toppings and fillings. It is both dairy-free and gluten-free.
Sauce
1½ cups canned tomatoes
1 chipotle pepper in adobo (add more for a spicier sauce)
½ tsp cumin powder
¼ tsp garlic powder
½ tsp salt
1 bunch cilantro, washed, chopped and divided
Combine first five ingredients in a blender and puree. Pour mixture into medium sauté pan and simmer for five to 10 minutes. Remove from heat and add half the cilantro. Set aside.
Filling
1 tsp oil
1 15-oz. can black beans ( drained and rinsed )
1 cup corn kernels
1 bunch scallions, chopped
1 clove garlic, minced
1 shredded vegan cheddar or jack cheese
8 blue corn tortillas, torn or cut in half. (yellow or white)
Heat oil in small sauté pan. Add garlic and stir until it becomes translucent. Add scallions and remove from heat. Add beans and corn.
In a medium baking dish, spoon some of the sauce over the bottom and spread it evenly. Line the bottom of the dish with a layer of tortilla halves.
Spoon half the filling over the tortillas with a little more sauce and half the cheese. Add the other layer of filling. Top with the remaining tortillas, sauce, cheese and cilantro.
Bake in a preheated oven at 350 F for about 20 minutes or until thoroughly heated. Allow to cool slightly and serve with or without guacamole.
Recipe courtesy of James Angelico, Contact 201-251-3153 or email jimholyfire17@aol.com.