Recipes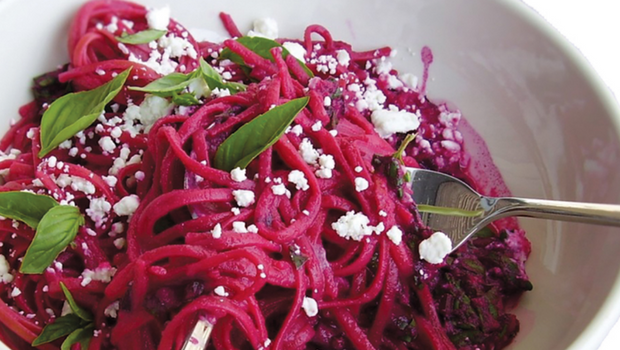 Published on September 27th, 2022 | by Natural Awakenings Publishing Corp.
0
Beets, Greens and Goat Cheese Linguine
2 medium, fresh organic or local beets with leaves
¼ cup unsweetened jasmine green tea (or water), hot or cold
1½ Tbsp extra-virgin olive oil
Juice and zest of ½ lemon (1½ Tbsp juice)
2 large garlic cloves
¾ tsp sea salt
10 oz dry, whole-grain linguine
2 oz soft, artisanal goat cheese or soft cashew cheese, crumbled
¼ cup fresh, small basil leaves
Preheat the oven (or toaster oven) to 350° F. Wash, dry and remove the leaves from the beets; thinly slice the leaves and chill until ready to use. Wrap the beets in recycled aluminum foil and roast in the oven until cooked through and tender, about 1 hour and 15 minutes. When cool enough to handle, scrape off the beet skin using the dull side of a paring knife, then chop the beets.
In a blender, add the chopped beets, tea, olive oil, lemon juice and zest, garlic and salt. Blend until velvety smooth, at least 2 minutes. Set aside. (Tip: Be careful. This purée will stain anything that it may be splattered onto.)
Bring a large saucepan of water to boil over high heat. Add salt to the water, if desired. Add the linguine and cook according to package directions. (Alternatively, try my lid-cooking technique to save energy: After stirring the linguine into the boiling water, cover with a lid and turn off or remove from heat. Let cook without heat per the same timing suggested on the pasta package.)
While the pasta is cooking, pour the beet purée into a large sauté pan and bring just to a boil over high heat. Reduce heat to medium-low, add the beet greens and cook while stirring until the greens are wilted, about 5 minutes.
Drain the pasta, reserving ½ cup of the cooking liquid. Add the pasta to the beet sauce and gently toss with tongs to combine. Add desired amount of reserved cooking liquid (if any) and gently toss to combine.
Transfer to a large serving bowl and sprinkle with the goat cheese and basil. Sprinkle with additional lemon zest, if desired, and serve.
Recipe by The Chef's Garden.