Healthy Kids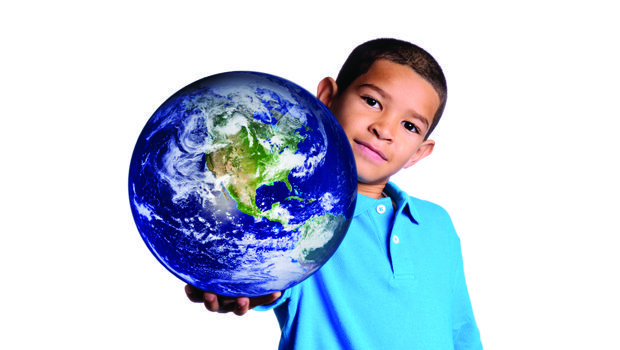 Published on March 29th, 2013 | by Natural Awakenings Publishing Corp.
0
Honoring Earth Day
Go Green at Parks and Other Community Events
"Most kids don't have a clue what wilderness means," observes Robin Snyder, chief of visitor services at New River Gorge National River, in West Virginia. "Many haven't been exposed to basic outdoor nature activities."
That's why the National Park Service annually sponsors more than 57,000 local school and park programs across the country, reaching 2.9 million students each year. More than 810,000 children also are participating in its Junior Ranger program. Many programs reflect First Lady Michelle Obama's child wellness initiative, with the appropriate twist, "Let's move outside."
This year's National Park Week, from April 20 to 28, centered on Earth Day, will offer free weekday admission to all 398 national parks from April 22 to 26, adding 134 more historic sites, preserves, recreation areas and other sites to the usual 264 with no entrance fee. Earth Day's 43rd anniversary celebrations throughout America and worldwide will encourage everyone to join in the next "billion acts of green," aligned with the theme: The Face of Climate Change.
"In the face of unprecedented occurrences of extreme weather, loss of species and pollution, it is clear that climate change is affecting our planet. We cannot afford to wait any longer to act," advises the Earth Day Network, which posts many ideas for participating atEarthDay.org/takeaction.
Find local park activities by state at nps.gov/findapark/event-search.htm or check a park's website for upcoming programs. Following are other leading local events that will help citizens of all ages answer the call to go green.
Local Earth Day Events
Earth Day Fair
11 a.m. to 2 p.m., April 19
1 Becton Drive, Franklin Lakes
Earth Day Vendor Fair at Becton Dickinson headquarters.
For more information, call Lauren Cranmer 201-847-5984 or visit bd.com.
Event: Cel-Earth-Bration Day
10 a.m. to 2 p.m., April 20
Hawthorne High School cafeteria, 160 Parmelee Ave., Hawthorne
A variety of activities and educational programs and entertainment for all ages.
For more information, visit HawthorneNJ.org .
Earth Day at Liberty State Park
10 a.m. to 4 p.m., April 20
Liberty State Park, 299 Morris Pesin Dr., Jersey City
Celebrate one of the largest Earth Day celebrations in the Garden State, with more than 100 vendors, amusements and lots of activities for the whole family.
For more information, call 201-653-2699 or visit ThisIsItProductions.com .
Seventh Annual Earth Day Fair
Noon to 4 p.m., April 20
Pearl R. Miller School, 117 Kiel Ave, Kinnelon
Many "green" activities, including products, services, education and entertainment. For more information, call 973-838-8576, email KinnConserves@optonline.net or visit KinnelonConserves.net .
Norwood Earth Fair
9 a.m. to 4 p.m., April 21
Norwood Community Center by the Pond, 453 Broadway, Norwood
Home office electronics recycling, paper shredding, green cleaning product giveaways, games and education.
Spring Cleaning for Earth Day
2 to 3:30 p.m., April 21
Flat Rock Brook Nature Center, 443 Van Nostrand Ave., Englewood
We all need to pitch in and help the natural places around us. Join our staff and volunteers to do a little spring cleaning of Flat Rock's beautiful brook. Bring waterproof boots or borrow ours.
For more information, call 201 567-1265 and register by email to Jill@flatrockbrook.org .
Green Festival
10 a.m. to 6 p.m., April 20 and 11 a.m. to 5 p.m., April 21
Javits Center North, New York City
Organic, vegetarian and vegan food court; Sierra Club Green Cinema; eco-fashion exhibits; handson DIY workshops; live music; organic beer and wine garden; keynote presentations; and green marketplace.
Cost: Online (Tickets.greenfestivals.org/events) is $10-Day Pass/$20-Weekend Fast Pass; at event $15/$25.
Celebrate Earth Day with Tenafly Nature Center
11:30 a.m., April 21 and 22
313 Hudson Ave, Tenafly
Learn about local vegetation, arts and crafts, nature story hour, hike wildflower walk and Earth cleanup.
For more information, call 201-568-6093 or visit TenaflyNatureCenter.org.
Earth Day At Lyndhurst
10 a.m., April 22
DeKorte Park, Lyndhurst
Earth Day talk-and-walk with the New Jersey Meadowlands Commission and Bergen County Audubon.
For more information, call 201-230-4983.
Earth Day Walk at the New
Jersey Botanical Gardens
1 p.m., April 22
New Jersey Botanical Gardens, Ringwood
Learn about the biodiversity of New Jersey.
For more information, call 973-962-9534.
Tri State Health And Wellness Fair
Noon to 5 p.m., April 28
Hunterdon Hills Playhouse, Hampton
For more information, call Lori Tomenchok at 908-310-5945, email Lori@LKTHealthventures.com or visit lkthealthventures.com/home .
2013 Edison Earth Day Celebration
9 a.m. to 3 p.m., April 28
Dudash Park, May St. and Liberty St., Edison
Green/sustainable presenters, exhibitors, speakers, vendors EGG guided tours of the Edison Greenway; event volunteer plantings, site cleaning and organic debris consolidation; ETEC soil testing; Central Jersey Bicycle Association (CJBA) bike ride roundtrip from Tano mall to Dudash Park.
Contact: For more info, call 732-248-7356 or email Chris Mazauskas at cmazauskas@edisonnj.org .
B Hive organic salon Earth Day Fair
10 a.m. to 3 p.m., April 28 (rain date May 5)
The B Hive Organic Salon, 269 Broadway, Hillsdale
Local and regional vendors of organic and eco-friendly products, homemade soap, organic personal care products, soy candles, henna and glitter tattoos, organic hair chalk and extensions and handmade pottery.
For more information, call 201-470-4483 or visit BHiveOrganicSalon.com. Vendors are welcome to inquire.