Local Insights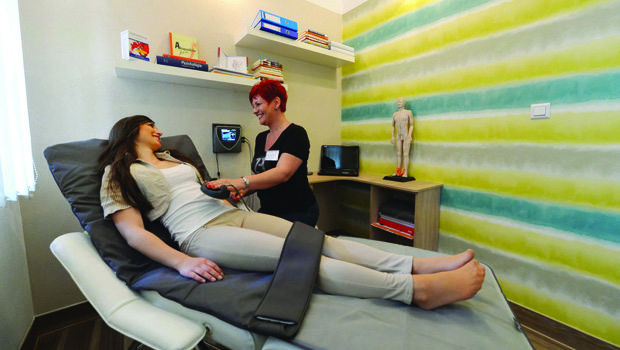 Published on June 28th, 2016 | by Natural Awakenings Northern New Jersey
0
New Treatments for Peripheral Neuropathy
by Donna Perillo
According to the Neuropathy Association, NORD, more than 20 million Americans suffer from peripheral neuropathy, a disorder of the motor, sensory and autonomic nerves that connect the spinal cord to muscles, skin and internal organs. This condition, in which the signals traveling between the body and the brain and spinal cord are interrupted, causing sensations ranging from pain to burning, tingling
and numbness, and can also involve weakness and wasting of the muscles. It is particularly prevalent among those with diabetes and becomes more common with age. Known causes include diabetes, autoimmune disease, alcoholism, infection, poison, medications, inherited disorders, tumors, chemotherapy, radiation and vitamin deficiencies.
It most commonly affects the hands and feet and may also cause lack of coordination and falling, muscle weakness and paralysis if the motor nerves are affected. If autonomic nerves are affected, bowel, bladder or digestive problems can occur, as well as changes in blood pressure, causing dizziness or lightheadedness. Peripheral neuropathy's course is variable, and it is not the same for everyone; it can come and go, slowly progressing over many years, or it can become severe and debilitating.
Those experiencing constant or intermittent pain or tingling or numbness in the extremities that just won't go away no matter how much ibuprofen is taken may be suffering from peripheral neuropathy. Although nerve damage can be tricky to treat, some forms of the condition are easier to treat than others; peripheral neuropathy caused by diseases such as multiple sclerosis, lupus, AIDS and cancer are the most difficult. However, a significant percentage of cases are due to more treatable causes such as vitamin deficiencies and compressed or trapped nerves. New protocols have been developed that are achieving successful results for patients across the country.
All can be helped to some extent by applying certain treatment methods that can be tailored to each patient's needs, including an improvement in diet and nutrition, exercise, modalities such as cold laser, BEMER pulsed electromagnetic field, light therapy, chiropractic, physical therapy, massage, lymphatic drainage and acupuncture.
Getting oxygen and nutrients to damaged nerves is key to treating peripheral neuropathy, which is why eating plenty of fruits and vegetables rich in vitamins and antioxidants is important. These will feed nerves and help destroy the free radicals that cause damage to the body's cells, leading to interference with electrical transmission.
By increasing blood flow to the microvasculature (tiny capillaries, venules and arterioles), increased oxygen and nutrients are able to reach the tissues and cells promote faster and improved healing to the damaged nerves and tissues.
Donna Perillo, DC, NMD, CNS, of Chiropractic Healing Center of NJ, provides chiropractic care, physical therapy, acupuncture, nutrition, weight loss and massage therapy. For more information, call 973-872-2133 or visit ChiroHealingNJ.com.