Spotlight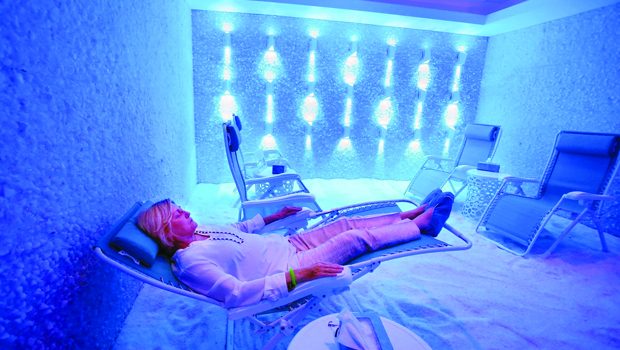 Published on June 28th, 2016 | by Brielle Bleeker
0
Salt Therapy Relieves Stress and Rejuvenates
by Brielle Bleeker
Salt therapy has been gaining in popularity throughout the U.S., and while many people are learning about the healing properties that Himalayan salt has to offer, including it's usage in the treatment of respiratory and skin issues, it can also be enjoyed as a stress reliever or simply as a relaxation tool. Eastern Europeans have utilized salt therapy for hundreds of years with proven benefits.
Salt therapy facilities can be found opening in spas and wellness centers across the country as more people seek out more natural means to maintain health and well-being as an alternative or complement to commonly prescribed medications and standard medical treatments. Himalayan salt contains 84 different trace minerals and offers a variety of valuable benefits to the body, including detoxification and weight loss. Unlike standard iodized salt, Himalayan salt is used in its natural, unprocessed form.
While salt therapy offers many physical benefits, it also may have a spiritual or emotional aspect to those seeking to get as much out of a treatment as possible. Simply spending a bit of time sitting in the quiet, clean environment of a salt therapy room can provide the downtime needed away from typical distractions such as electronics to experience ultimate relaxation and a feeling of peacefulness. After a salt session, a sense of calm, coupled with an enhanced positive mood, may be evident.
For many, salt therapy can be a wonderful way to alleviate every day stresses and find an inner calm with the potential to remedy a variety of ailments. Newly-opened Salt Breeze, in Fair Lawn, simulates traditional salt caves using all-natural Himalayan salt. Those looking for a healing treatment or simply some time to unwind and rejuvenate can visit the facility for a unique and incredible experience.
Salt Breeze is located at 5-05 Saddle River Rd. For appointments, call 201-254-9492. For more information, visit SaltBreezeNJ.com.
Brielle Bleeker is a contributing writer for Natural Awakenings magazine.