Therapy Briefs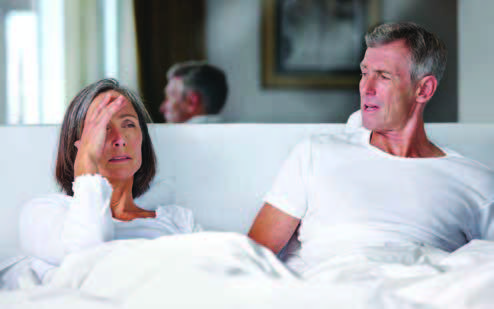 Published on February 22nd, 2019 | by Natural Awakenings Northern New Jersey
0
The Effects of Menopause on Libido
As women go through menopause, they might notice changes in their libido, or sex drive. This is due to the way menopause decreases hormone levels. Recent studies show that women are experiencing menopause symptoms by the time they are 40—earlier than ever—as opposed to in their late 40s. So, now it is even more important to realize all the ways that "the change" can affect life.
Menopause can negatively affect libido in several ways; during menopause, testosterone and estrogen levels decrease, leading to vaginal dryness and tightness. Lower levels of estrogen result in less blood supply to the vagina, making it more difficult to get aroused, and can also lead to thinning of the vaginal wall, known as vaginal atrophy. All these issues can cause pain or discomfort during intercourse. Additionally, menopause symptoms such as depression, mood swings, anxiety, insomnia and a decrease in energy can make women less interested in sex, as well.
Other physical changes during menopause might also affect libido. For example, many women gain fat and lose muscle during menopause—body changes that can make it hard to feel sexy, thereby decreasing the desire for sex. Hot flashes and night sweats are also common symptoms that deter intimacy.
Optimal estrogen and testosterone levels are associated with emotional and physical well-being—rebalancing hormone levels to those of youth replenishes the body so that people can live their best life at any age. The proven SottoPelle bioidentical hormone replacement therapy will do just that.
Hundreds of body functions depend on the presence of these key hormones in order to work properly. This is true whether we are male or female, 19 or 91. Our need for hormonal balance never goes away.
Dr. Susan Matos-Cloke owns and operates Advanced Hormone Solutions, located at 122 E. Ridgewood Ave., in Paramus. She is a certified SottoPelle-trained natural hormone specialist and a 30-year board-certified internist. To make an appointment, call 201-225-2525, email Appointments@ahsclinics.com or visit AdvancedHormoneSolutions.com.