Uncategorized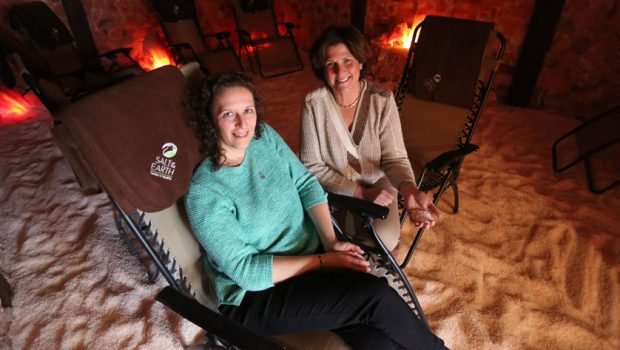 Published on September 30th, 2019 | by Tracy Lynn
0
Salt Therapy, Cannabidiol and More at Salt of the Earth
by Traci Lynn
Sheryl Silver MS, a functional medicine Health Coach, and Susan Toron DC, operate the holistic Salt of the Earth Center for Healing in Chestnut Ridge, New York. Every month, special group events take place in their unique salt cave, including reiki circles, meditation groups, sound healing, CBD workshops and more.
To celebrate their third anniversary with a celebration on October 26 and 27 with half-price salt cave sessions, sales on salt products and crystals and discounts on gift certificates. Several of their practitioners will offer 15-minute sessions ($25) to sample their services. Prizes in a free raffle ongoing during October include a series of three of salt cave sessions; a series of three far-infrared BioMat sessions; and a jumbo salt lamp.
When they first opened in October 2016, the two women weren't sure if it would be embraced by the community. As more practitioners joined the center over these last three years, their original vision of a true healing center has come to fruition. Salt of the Earth, Center for Healing offers a variety of natural healing treatments that complement traditional therapies, including the Himalayan salt cave, acupuncture, reiki, functional medicine health coaching and nutrition, craniosacral therapy, massage, lymphatic drainage, and clinical psychology.
In the cave at Salt of the Earth, clients are surrounded by thousands of pounds of pink, Himalayan salt in an environment that recreates the microclimate of naturally occurring subterranean salt caves (speleotherapy). In addition to the salt on the walls and floor, a halogenerator crushes salt into micron-sized dry particles that are inhaled. This is known as halotherapy, a non-invasive method of natural healing of asthma, allergies, COPD, sinusitis and more.
Silver and Toron implement a functional medicine approach to wellness for their clients. They believe it is best to get to the root cause of a patient's condition rather than address only the symptoms. This philosophy allows them to incorporate the multitude of healing modalities offered at the cave. They can create a plan that is specific to an individual's health needs and assist them on the journey to wellness, including proper eating plans, vitamins and lifestyle changes.
They also educate people about the benefits of cannabidiol (CBD) and explain how to use it safely and effectively. CBD has become a major innovation in the health and wellness industry in recent years, but along with the popularity comes a lot of misinformation and products of varying quality. At Salt of the Earth, Silver and Toron have spent time researching how CBD is made and investigating many products to establish the brands they are comfortable carrying at their center. As one of their many monthly special events, they hold a free CBD workshop.
Salt of the Earth is located at 811 Chestnut Ridge Rd., in Chestnut Ridge, NY. For more information or to register for workshops, call 845-290-0678 or visit SaltOfTheEarthcfh.com.