Advertorial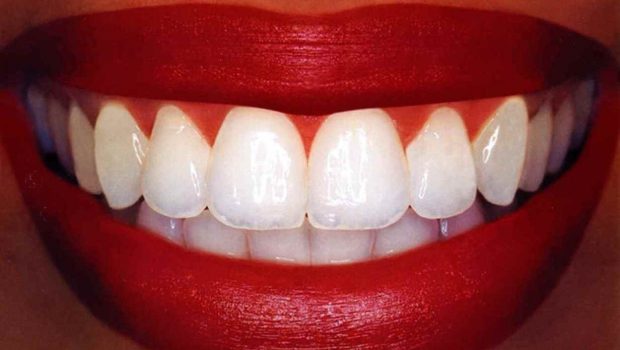 Published on November 30th, 2019 | by Maria Karameros
0
Sacrifice Health for a Whiter Smile?
by Maria Karameros
According to the American Association of Cosmetic Dentists (AACD), half of Americans believe the most memorable part of a first impression is a smile with bright, white teeth. The recent popularity of that "All-American" smile often seen on celebrities has made expensive cosmetic dental work more essential than a luxury.
Data calculated by Statista in 2019 based on the U.S. Census data and Simmons National Consumer Survey shows that 1.94 million Americans spent $250 or more on oral care products in three months. Also, 45 million Americans have had professional teeth whitening. Since women typically spend more on their overall appearance, it is no surprise the majority of such procedures are done on women.
Many tooth whitening products and treatment contain harsh chemicals and additives. To maintain dental health and clean, white teeth, only safe, effective oral care products should be used, such as products from SprinJene. The company's president, Dr. Sayed Ibrahim, created a toothpaste inspired by his mother's Sudanese herbal home remedies. He says, "I always believed that the world deserves better toothpaste." SprinJene's ingredients naturally whiten teeth while also effectively reducing tooth decay.
Dr. Ibrahim sets himself apart from many holistic companies with a background as an organic chemist and accomplished research scientist. He won the New Jersey Small Business Development Center's 2016 Success Award. His products are a unique blend of herbs and safe traditional ingredients that are excellent for maintaining good oral health and aesthetics.
SprinJene contains a patented formula of zinc and black seed oil. Also called black cumin and nigella sativa, black seed oil has historically been used for oral health in Africa and the Middle East. A 2016 study by the Institute of Health states that the oil is anti-inflammatory, antibacterial and antifungal, and may not only prevent dental caries, but heals them as well.
Zinc controls the growth of bacteria, plaque and tartar, while other natural ingredients like coconut oil, provide added anti-inflammatory and antibacterial benefits. Stevia is used to add a sweet taste without sacrificing quality and safety, unlike most major brands. SprinJene is certified cruelty-free, vegan, gluten-free, kosher, halal and free of artificial sweeteners, dyes and preservatives. SprinJene toothpaste also reduces and typically eliminates morning breath, allowing for spontaneous intimacy upon waking.
Since its launch in 2015, SprinJene has introduced new formulas specifically for children and sensitive teeth. Lip balms and oral rinses are currently in development. Existing products are now available on Amazon, at Costco and Bed Bath & Beyond.
The cited NIH studies, "Nigella Sativa and its Active Constituent Thymoquinone," in Oral Health, and "A Review on the Cosmeceutical and External Applications of Nigella sativa", can be found at Tinyurl.com/toothstudy01 and Tinyurl.com/toothstudy02. For more information, call 732-640-1830, email Inquiries@SprinJene.com or visit SprinJene.com.