Feature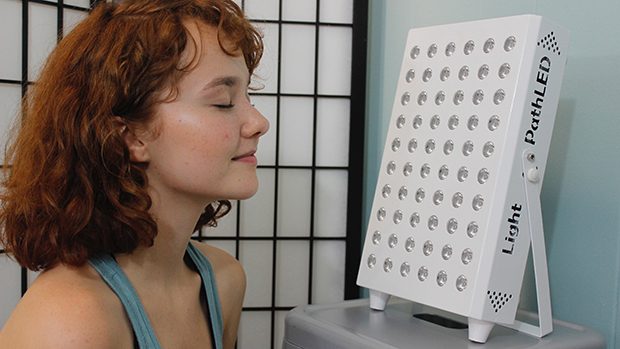 Published on March 31st, 2020 | by Natural Awakenings Northern New Jersey
0
In our current climate, is a strong immune system important to you?
Red Light Therapy (Photobiomodulation) has been proven to boost the immune system by stimulating the lymph nodes, oxygenating the blood, and reducing viral load  (ncbi.nlm.nih.gov/pmc/articles/PMC5215870 and liebertpub.com/doi/full/10.1089/photob.2019.4628).
Light therapy can also beat seasonal affective disorder, reduce inflammation, speed healing, treat eye diseases and even reduce migraines. With over 5,000 research studies, the practical applications of light therapy continue to grow.
Light therapy was first researched by NASA 40 years ago. Over the last 20 years, research treatments and purchasing options have become increasingly widespread. Sports teams such as the Cowboys and Patriots, U.S. Olympic teams, UFC fighters, Navy Seals, along with thousands of hospitals and clinics around the world are taking full advantage of light therapy because it works.
Advances in technology have made it easier for people like you and I to benefit from light therapy as cost is no longer a deterrent. Light therapy panels are now affordable and mobile, perfect for the home and on the go.
How does Light Therapy work? Picture photosynthesis: Sunlight enters a plant creating a chemical reaction which is used to create the energy needed for the plant to grow and thrive. The same thing occurs in our cells. When specific light energies enter the body, they are absorbed by the cells, specifically the mitochondria, which in turn is able to produce more energy called ATP. This creates a cascade of benefits necessary for humans, like plants, to grow and thrive even in a climate of toxins and viruses.
With coupon code: "natural", get up to $160 off your panel this month. Price range from $224 to $824. Visit LightPathLED.com. For more comprehensive treatments, visit Lightpath to Wellness at 209 Main St. 2nd floor, in Fort Lee, NJ, and experience the full-body LED bed, face pod, deep spot treatment, infrared sauna and vibration plate. 833-544-4865.
ADVERTORIAL