Business Profile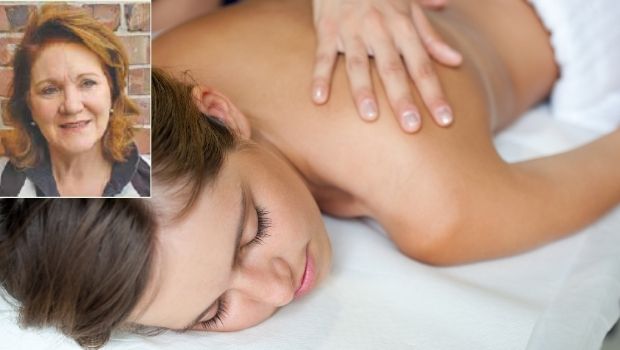 Published on August 31st, 2020 | by Natural Awakenings Publishing Corp.
0
Understanding the Universe
Catherine Perman, LMBT CMLDT, administers therapeutic body balancing treatments at Body Therapeutics LLC. She states, "I'm a hands-on therapeutic bodywork practitioner. But since mid-March, coronavirus, quarantine and pandemic high alert, I have been hands-off!" After seeing her business get lost in the ensuing economic shuffle, she was grateful to be in a safe place with her family and plenty of room.
Despite these blessings, Perman found herself in despair at the daily consumption of news. She was also not alone, and so along with some fellow colleagues, took classes on remote distant healing. To their surprise, it seemed to work.
Around the same time, Perman was introduced to a frequency microcurrent device from Germany being introduced into the U.S. Not knowing much about the subject, she settled into many Zoom sessions to learn more and ready to use it. The device is cleared by the U.S. Food and Drug Administration for local relief of acute, chronic and arthritis pain and muscle soreness due to overexertion. It also has non-medical applications that use individualized frequencies to help balance the mind and body and relieve stress in support of wellness.
Perman tested the device on her own health issues; joint aches from weather changes. "I typically don't get headaches, but I did find myself getting an occasional one  and found myself watching them vanish as soon as in several minutes. A ticklish throat and even back pain have had a nice exit from my body with the use of this awesome invention." She says that it even helped her pets' anxieties from fireworks and thunderstorms.
"I also discovered I could send long-distance healing vibrations to a loved one in need with this device with affirmative results. It also has an aura analysis, which is awesome when you need a little encouragement to stack up those chakras with infused energy," she shares.
Perman notes, "With the guidelines opening up for us practitioners, I'm slowly getting back to in-person, hands-on healing again. I am also introducing my clients to this device by giving them in-person demonstrations. Having options for self-care is a big step in all of our futures."
For more information, call 917-701-1162 email BodyTherapeuticsLLC@gmail.com or visit iahp.com/Catherine-Perman and HealyWorld.net/en-us/partner/BodyTherapeutics.