Health Briefs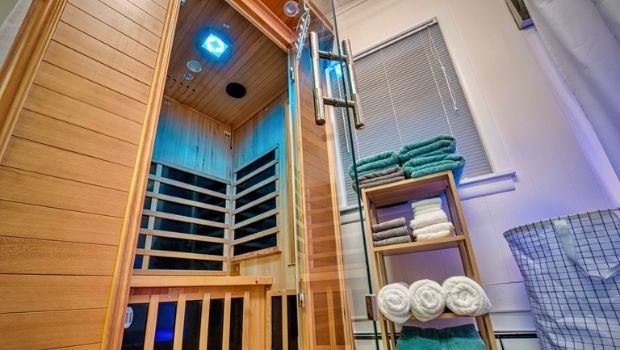 Published on September 30th, 2020 | by Natural Awakenings Publishing Corp.
0
Relax and Rejuvenate with a Sauna
A hot sauna can be invigorating on a cold fall day, but there are many health benefits, as well.
Combats Aging and Increases Longevity
Using an infrared sauna activates heat shock proteins (HSP) to slow aging and enhance longevity. HSPs help to repair damaged cells due to the aging process. They also promote the recycling of damaged cell parts and prevent future damage by scavenging free radicals and upping antioxidant capacity by maintaining the super antioxidant glutathione.
Improves Mitochondrial Health and Energy Production
Heat stress initiated by infrared sauna improves mitochondrial health in a number of ways. The body is stimulated to make more mitochondria, increasing capacity to produce energy. The mitochondria also grow bigger and stronger producing more energy. Internal anti-oxidant and detoxification systems undergo improved functioning. Also, cells begin to repair and recycle damaged mitochondria. This makes space for new, better functioning mitochondria as old, damaged versions are excreted.
Boosts Detoxification and Weight Loss
Sauna use shows great promise for detoxification from many heavy metals and environmental chemicals including PCB, PBB, BPA, drugs and organochlorine pesticides such as DDT. The body accumulates such toxicants over time, and due to their long lives, avoiding them alone will not insure effective detoxing. The ability to sweat is critical, especially for heavy metals like mercury, cadmium, arsenic and lead, which appear to come out in higher concentrations in sweat.
Infrared sauna use appears to help with weight loss and appetite modulation, as well. Studies show that using an infrared sauna to create more HSPs can lower body fat mass, increase the number of mitochondria and oxidative enzymes, improve insulin tolerance and glucose clearance, and decrease intramuscular lipid accumulation. Sauna use increases metabolic rate and oxygen consumption similar to moderate exercise, which means that it may help with weight maintenance even if someone is unable to exercise due to injury or illness.
Enhances Physical Performance and Workout Recovery
Sauna use increases endurance. Cardiovascular improvements gained via hyperthermic conditioning such as increased plasma volume, increased red blood cells and blood flow to the heart improve athletic endurance and performance for all levels of athletes. Hyperthermic conditioning insures the body stays cooler and performs better at higher temperatures induced during exercise. Sauna use seems to help the body perform exercise more efficiently and with greater ease.
Infrared saunas use speeds up post-workout recovery. Studies show that lactic acid build up in the muscles after exercise is reduced as a result of hyperthermic conditioning. It also reduces exercise-induced muscle damage and delayed-onset muscle soreness. Researchers have found that infrared heat improves recovery of the neuromuscular system as well. HTPs created from sauna sessions increase muscle growth and reduce oxidative stress and muscle breakdown to increase recovery time.
Fights Depression
Infrared sauna use has been shown to combat depression in numerous ways. Through the process of hormesis, the body temporarily increases temperature and spikes inflammation, while increasing HSPs, which work to lower baseline body temperature and inflammation associated with depression. Hormesis may also promote autophagy in the brain, which makes brain cells more resilient and resistant to stressors. Sauna use has been shown to cause a massive release of beta-endorphins in the brain, leading to better mood and fewer negative effects of stress. Also an increase in the body's production of endorphin receptors means it takes less to feel good even while not under heat-stress, leading to more pleasure from everyday activities.
Light Path To Wellness is located at 209 Main St., in Fort Lee. Natural Awakenings readers receive the first session for $25. Make an appointment at 833-544-4865. For more information, email Info@LighPpathToWellness.com.