Fit Body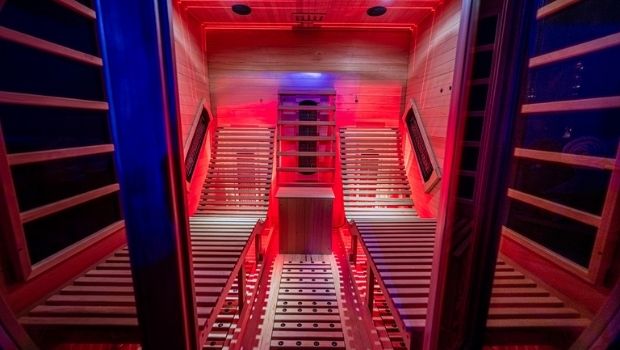 Published on November 30th, 2020 | by Natural Awakenings Publishing Corp.
0
Infrared Sauna Makes a Great Holiday Gift
Those looking for a great gift for just about anyone can check out the many benefits of infrared saunas. They are easy to use and getting in a session can be simple without breaking the bank. This great pickme-up tool packs a powerful health-boosting punch. Because safety is a huge factor, it's comforting to know that through heat, red light, UV filters, disinfectant sprays, masks, and temperature checks all keep bacteria and viruses at bay.
Unlike a traditional sauna, which heats the air to extremely high temperatures, infrared saunas use infrared lamps that easily penetrate human tissue, warming the body directly. An infrared sauna can operate at a lower temperature (between120 ˚F and 140 ˚F), while as traditional saunas typically run between 150 ˚F and 180 ˚F. The deeper heat penetration of an infrared sauna promotes a more intense sweat at a lower, more tolerable temperature, while raising core body temperature by two to three degrees.
Research into positive effects of infrared saunas continues to prove promising for overall quality of life and well-being. Studies continue to show that they help with pain management, relaxation, energy and  mood. Users of infrared saunas say they achieve better sleep, weight loss, relief from sore muscles and joint pain, and improved skin tone. These saunas can even improve heart function by reducing blood pressure, regulating heart rate and improving circulation.
Infrared saunas can also boost our immune system and cellular health. Many users report increased sweating and heart rate, which aids
in detoxification with the same type of clarity of mind feelings as moderate exercise, and deep relaxation. Anyone looking to improve their
overall well-being. Including those suffering specific health conditions, can benefit from infrared saunas. One of the biggest benefits
is that they're comfortable and simple to use, even for people that struggle with pain or have sensitive skin and stomachs when it
comes to heat, all with no need for medications or doctor visits.
Studies have shown benefits of infrared sauna therapy for people with cardiovascular disease, diabetes, high blood pressure, congestive heart failure, rheumatoid arthritis, chronic fatigue, poor digestion, depression and anger, and chronic muscle and joint pain. As research continues to grow, so do the possibilities of how infrared saunas can affect positive changes in our daily lives.
Light Path to Wellness, located at 209 Main St., 2nd floor, in Fort Lee, offers a year-end $25 initial session special. For appointments,
call 833-544-4865 or visit LightPathLED.com.