Recipe Corner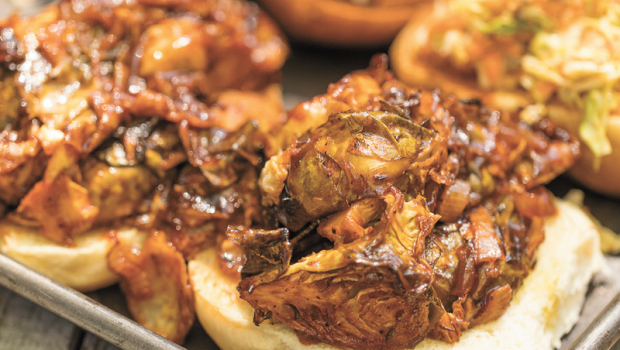 Published on June 30th, 2021 | by Natural Awakenings Publishing Corp.
0
BBQ Brussels Sprouts Sandwiches with Brussels Sprout Slaw
Yield: 6 sandwiches
2 lb Brussels sprouts
1 cup shredded carrot (about one large)
2 Tbsp mayonnaise
1 Tbsp grainy mustard
Kosher salt and cracked black pepper (to taste)
1 white onion (quartered and sliced)
2 Tbsp toasted sesame oil
1 Tbsp apple cider vinegar
2 Tbsp of The Chubby Vegetarian's Memphis BBQ Dry Rub
1 cup BBQ sauce
6 hamburger buns
First, make the Brussels sprout slaw. Thinly slice enough of the Brussels sprouts to have 2 cups. Reserve the remainder of the Brussels sprouts. In a large bowl, combine the 2 cups shredded sprouts with the shredded carrot, mayonnaise, mustard and salt and pepper to taste. Toss until well-incorporated. Set aside in the refrigerator until ready to serve. (Makes about 2 cups of slaw.)
Preheat the grill on high for 10 minutes. Cover the grill with a single layer of aluminum foil. Slice the remaining Brussels sprouts in half. In a large bowl, toss the halved Brussels sprouts and the onion with the sesame oil, vinegar and BBQ dry rub until everything is coated. Place the Brussels sprouts on the grill for 5 minutes on one side and 4 minutes on the other side, or until the edges are brown and they're cooked through. Remove sprouts from the grill and place them into a medium bowl. Pour in BBQ sauce. Using a spatula, toss the Brussels sprouts in the sauce until they're well-coated.
Put the BBQ Brussels aside until ready to assemble the sandwiches. On the bottom part of each hamburger bun, pile on the BBQ and top it with the slaw.
Recipe by Justin Fox Burks and Amy Lawrence of The Chubby Vegetarian blog and cookbooks.
More Great Grilling Recipes
The Chubby Vegetarian's Memphis BBQ Dry Rub
Add flavor and spice to your favorite vegetarian grilling recipes with this mixture for Memphis BBQ Dry Rub. Read More »
Grilled Cumin Carrots with Pecans, Ricotta and Herbs
Carrots seasoned in cumin and herbs with pecans and ricotta make for a delicious meat-free, vegetarian grilling recipe. Read More »