Spotlight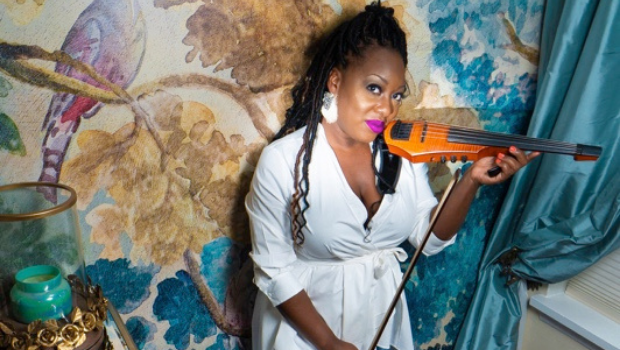 Published on May 31st, 2022 | by Natural Awakenings Publishing Corp.
0
Kersten Stevens Mixes Yoga and Music
Kersten Stevens teaches at Real Hot Yoga, in Englewood, on Wednesdays at 6 p.m. and Fridays at 9 a.m. She a multifaceted, kind musician, yoga teacher who leads a growing breed of performers that are innovating artistic sensitivity and reverence for authentic musicianship. During the pandemic, Stevens became a certified yoga 200-RHY instructor, and now balances her time between her love of yoga, her role as director of digital strategy at the world-famous Apollo Theater and her career as a jazz and gospel violinist.
Stevens has performed before notable audients such as President Barack Obama, Ray Charles and Denzel Washington, as well as with music greats Yanni and her mentor, renowned jazz violinist Regina Carter. Her newest single, Faith's Hymn (Amazing Grace remix) is a special collaboration with Beautiful Chorus that adds her signature sound to one of the wellness industry's most popular anthems. Her pivotal fourth album release, Inspire Me, is a vibrant collection of original and traditional worship songs performed with a satiating palette of jazz design. Music produced by eight-time Grammy-winner Christian M is in the works.
While Stevens started her musical journey at the age of 3 in Connecticut at the behest of her mother, it was her father who nudged her to do yoga. In 2016, she was going through challenges in personal and professional life when her father suggested she try hot yoga as a respite to destress and give her mind more clarity amid the daily pressures of life. Once she began, she never stopped.
When Stevens found yoga to be her new muse, she realized yoga had become a way of life. Even during vacation travel, she would find a yoga studio, teach classes or trek to a remote section of beach to find her flow. Her greatest realization came during a yoga retreat to Costa Rica in 2019, where the she first performed the Faith's Hymn (Amazing Grace remix), which now boasts 12,000 spins on Spotify and counting.
She found the healing power of sacred hymn matched with meditation to be profound and the response from the yogis in the room to be transformative. Since then, Stevens has been inspired by the connections and balance between yoga and music of the African American diaspora in particular, and fuses the two to deepen her students' experience and oneness with the practice.
Stevens' continuing mission is to spread the healing, wellness and strength-building benefits of yoga. She wants to have her own studio in few years to make yoga more accessible with an environment of inclusion for everyone and says, "Every section of our community requires healing!"
For more information, visit KerstenStevens.com and Englewood.RealHotYoga.net.