Business Spotlight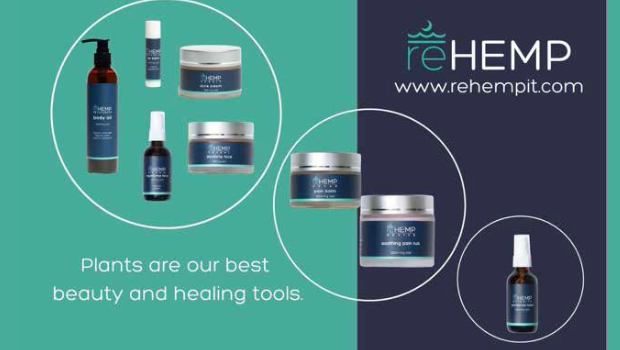 Published on November 30th, 2021 | by Martin Miron
0
Woman-Owned Cannabis Success Story
Longtime friends Karen Horan and Natasha Fedorow share a mutual passion for a clean, plant-based lifestyle. "We are also beauty junkies and avid label readers, so we have tried every beauty and self-care product under the sun and compared notes," says Horan. Not happy with what was available on the market, they created their own products under the brand reHEMP. The lab and manufacturing facility is located in San Diego, but headquarters are in New Jersey.
reHEMP is based on plant science and the difference simple, natural and minimally processed plant ingredients make to self-care and wellness. They set out to create a product line based upon pesticide-free, wild-grown cannabidiol (CBD) and proven plant science.
After two years and many formulations, the pair developed the reHEMP line. All of the products are CBD-based with wild-grown hemp sourced from a family farm in Denmark that practices sustainable, non-GMO and pesticide-free farming. The line preserves the nutrients and efficacy of the hemp and they take it a step further by blending the powerful adaptogenic, healing effects of CBD with proven botanicals like reishi and lavender.
CBD products are carefully formulated with proven botanicals that work. "Our line is also based on our personal experiences and needs," says Fedorow. "I'm your stereotypical weekend warrior with old sports injuries and Karen is a competitive equestrian, so we are very familiar with the various holistic treatments for pain, and found CBD to be an extremely effective pain regulator. Our Sport line we are very proud of because we based it on our needs and we know it works."
Skin-care bestsellers are the RENEW nighttime face and REJUVENATE body oil, which contain high-potency CBD combined with organic reishi and other botanicals for a game-changing skin care regime. "We also realize that we can all use a little more playtime in our lives, so we developed our pleasure line that offers REIGNITE high potency CBD lube combined with stimulating botanicals, which I personally love," advises Fedorow. All products are third-party tested, 100 percent THC-free, non-GMO, vegan, pesticide-free and cGMP manufactured.
The partners are excited to start working on the launch of the reHEMPist community. Fedorow states, "We want our content to be user-driven, so we are inviting all our clients to send us videos or photos using our products. We have posted self-care tips and massage techniques which we call 'Pilates for the face' on our website. Our techniques enhance the efficacy of our skin care products, so we encourage our clients to share their techniques with the rest of our reHEMPst community."
For more information, visit reHempit.com.