Spotlight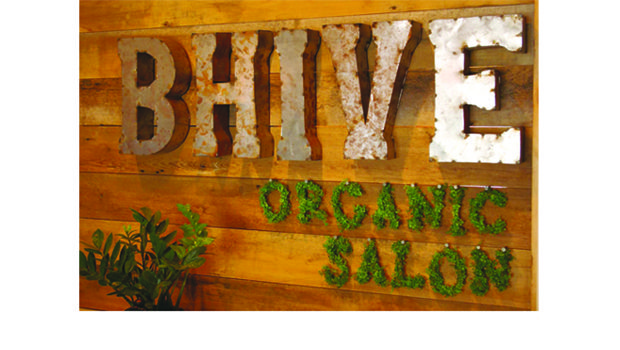 Published on August 2nd, 2013 | by Martin Miron
0
This Organic Salon is Busy as a B Hive
Angela Flores Alba grew up in Astoria, Queens. She was born with a creative streak, and says, "I was always dabbling with coloring my hair at a very young age; it was just something I liked to do." Those artistic tendencies stayed with her throughout school. "I was always the person in high school who did everybody's makeup," she notes. She went to college for a year, but it didn't really work out for her. Then came beauty school, and as Angela recalls, "That was it. It was a perfect fit for my personality, because I like making people feel good about themselves."
Angela married James Alba, a technology recruiter, 10 years ago, and they started to raise a family. "Once we started having children, we began eating differently, using different cleaning products in our house and I was making baby food," says Angela. "Caring about what I did for me and my family in terms of our health, I realized that my job [as a hairdresser] was completely contradictory to that kind of lifestyle." After the birth of their second child, Angela worked from home and more fully realized just how toxic the products she used every day around the house were. Her world was transformed. "Once I learned about being healthy during pregnancy is when it all changed for me," she says.
After three years of operating freelance, Angela and James opened The B Hive Organic Salon a year-and-a-half ago. Her father, a veteran radio executive, liked the business plan and decided to invest in their future. The couple looked at a space in Westwood, but eventually found a former salon in Hillsdale that fit their needs perfectly. They upcycled many of the fixtures and furnishings, including the incorporation of Energy Star appliances, green building materials, LED lighting and eco-friendly finishes on wall and counter surfaces. Their electricity from Viridian (Viridian.com) is 100 percent renewably sourced.
James says, "The previous salon had nice European styling chairs, but they were 10 years old. We could have thrown them out and bought new ones, but we were able to upcycle them by reupholstering with Eco Tek; it's like a wet suit. They're not leather, they're not pleather, there're a sustainable fabric. We kept them out of the landfill."
The B Hive started with just Angela and her clients, and then other stylists looking for a cleaner, healthier place to work found them. She states, "I had been doing it [hairdressing] for 13 years and became immune to the smells, the burning and the coughing when you mix color and those kind of things. I worked for a really large corporate salon for a long time and we're a six-chair smaller space; it's really nice."
Angela says, "I have a lot of girls who are expecting and girls who developed respiratory problems and skin problems because of where they worked before. It's clearly a much healthier place to work, and our staff definitely appreciates that." The clients feel the same way. "We have women come in who are breast cancer survivors or have thyroid issues or are losing their hair—you name it, and we're doing the best we can for them." It was a quest for professional organic colors and healthier treatments that didn't have all the harsh chemicals, which led Angela to Organic Color Systems (OrganicColorSystems.com), the line she uses today.
Angela and James carefully vet all their vendors. James explains, "Well, it's great that our product is ammonia-free. We think that 10 years from now, all hair color is going to be ammonia-free; it's going to be what people expect. But what do they put in as a substitute and how much?" He goes on to deliver some alarming news. "There's no regulation in the beauty business and it's horrendous what they can do. Ninety percent of the beauty industry is actually owned by the pharmaceutical companies. Loreal and Redken are the hair division of a French pharmaceutical company, Sanofi. Wella and Clairol are owned by Proctor & Gamble, and both are made in the same factory."
Because it is an eco-friendly salon, the B Hive puts on an Earth Week event every April and also holds other community activities, like the upcoming Sustainable Beauty Day in October with Davines (Davines.com), a natural treatment line for skin issues such as psoriasis, dandruff and hair loss.
"There are so many benefits here because you are able to be a lot closer to your staff and have a nicer quality of life in the workspace," says Angela. "When you walk into the The B Hive, it really doesn't feel like walking into a regular salon. It makes me feel good when people come in and say, 'Wow, who designed this place?' or 'It smells really great.'"
The B Hive Organic Salon is located at 269 Broadway, in Hillsdale, NJ. For more information, call 201-470-4438 or visit BhiveOrganicSalon.com.