Feature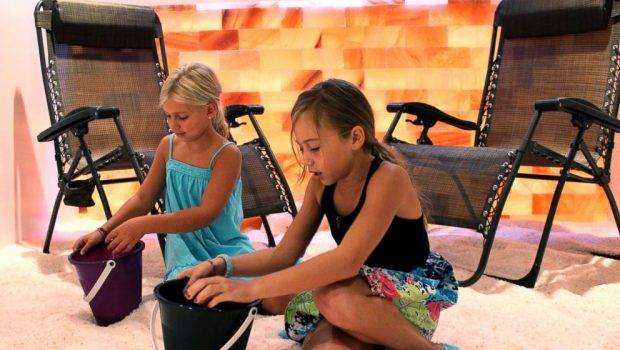 Published on January 2nd, 2018 | by Brianna Majsiak
0
Salt Therapy Brings Natural Relief for Childhood Asthma
Last updated on April 3rd, 2018 at 10:15 pm
by Brianna Majsiak
According to the department of health, 167,000 children in New Jersey suffer from asthma, making it one of the most common chronic childhood diseases. Children with asthma that is not managed effectively may have difficulty breathing, miss school and are less active, according to the National Institutes of Health.
Salt Breeze is a salt therapy wellness center located in Fair Lawn. At Salt Breeze, the adult and children's halotherapy rooms are lined floor-to-ceiling with Himalayan salt, and each room contains a a halogenerator that disperses medical-grade purified salt, slowly releasing the salt particles into the air during each session to mimic the environment of a natural salt cave.
The use of salt to treat respiratory issues originated centuries ago when Polish physician Felix Boczkowski noticed that salt miners had significantly fewer respiratory problems than other miners. Today, salt therapy is used across Europe and is now gaining traction in the U.S. as a natural way to relieve symptoms of certain respiratory and skin conditions ranging from asthma to eczema.
Salt is antibacterial and anti-inflammatory, so when inhaled, it can help clear impurities in the respiratory passages, as well as soothe irritation, loosen mucus and promote healing of the respiratory tract lining.
Salt Breeze is located at 5-05 Saddle River Rd., in Fair Lawn, NJ. For appointments, call 201-254-9492. For more information, visit SaltBreezeNJ.com.