Feature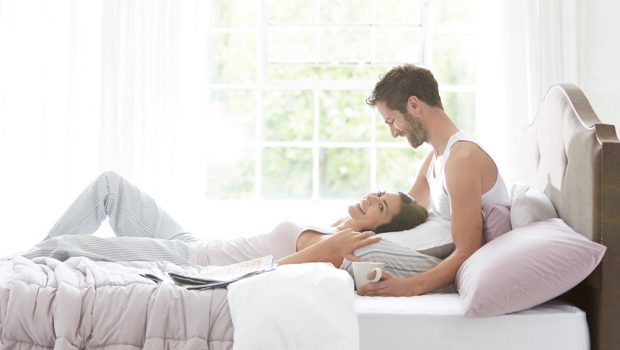 Published on September 12th, 2018 | by Brielle Bleeker
0
How to Create an Organic Oasis in the Bedroom
by Brielle Bleeker
It is choice that makes us adopt a lifestyle of wellness. Most people start with diet and move to swapping out beauty and cleaning products for safer versions, but one of the top factors of leading a healthier life is removing toxic chemicals from the bedroom. People spend one-third of their lives in the bedroom, so ensuring a safe environment by creating an organic oasis to rest and relax makes sense.
When making healthy changes to the bedroom, there are many areas that can be cleaner and greener. Whether changing step-by-step or doing a complete overhaul, there are many organic selections to enhance a natural atmosphere. A simple way to start is to replace bed sheets with those made from organic fibers.
Many traditional sheets have been treated with chemical flame retardants or stain protection chemicals. Many companies offer more organic choices for consumers due to increased awareness of the hazards associated with chemicals.
Another great way to decrease the toxin load in the bedroom is to get rid of the carpet. Carpeting is a breeding ground for dust mites and can be even more harmful to allergy sufferers. Choose a wood floor and area rugs made of natural fibers.
It's also important to use a nontoxic paint. Those that contain volatile organic compounds (VOC) contain harsh chemicals and can emit toxins that are inhaled long after the paint has dried. Some traditional paint manufacturers have created safer alternative paint lines to choose from. Fabric curtains are another source where bacteria and dust mites can live. A great option for windows is to invest in untreated wood blinds or fabric made from organic materials.
The biggest change to create a healthier bedroom is to get rid of an old mattress and invest in an organic model. Most mattresses are made with flame-retardant and stain-resistant chemicals that can be detrimental to health over time. Foam cushioning contains petrochemicals which can give off gas, potentially leading to numerous health problems in both adults and children.
Healthy Choice Organic Mattress, in Ridgewood, is committed to selling comfortable, chemical-free and sustainable mattresses. Healthy Choice mattresses are made with high-quality natural and organic materials, organic wool, organic cotton, and 98 percent pure natural rubber (the other 2 percent is fatty acids and soaps, no chemicals). Dave Spittal, owner of Healthy Choice, says, "Our latex doesn't give off harmful gas compounds that may be present in memory foam." He believes that beds manufactured using polyurethane foam may soon be a distant memory as people discover how latex mattresses outlast and outperform memory foam. Spittal notes that by using a natural latex material, "It's not only environmentally friendly and non-toxic, but it also is extraordinarily durable."
In addition to a variety of organic mattress selections, Healthy Choice offers a wide assortment of organic products to fit bedding needs. Organic pillows, sheets and wool comforters are available customers looking for a complete healthy bedroom overhaul.
Organic mattresses offer a healthier option to creating an organic oasis in the bedroom. For those looking to start focusing on wellness, an organic bedroom can be the first step to living a healthier, more natural lifestyle.
Healthy Choice Organic Mattress is located at 14 Wilsey Square, in Ridgewood. For more information, call 201-857-3245 or visit HCMattress.com.
Brielle Bleeker is a contributing writer for Natural Awakenings magazine.