Health Briefs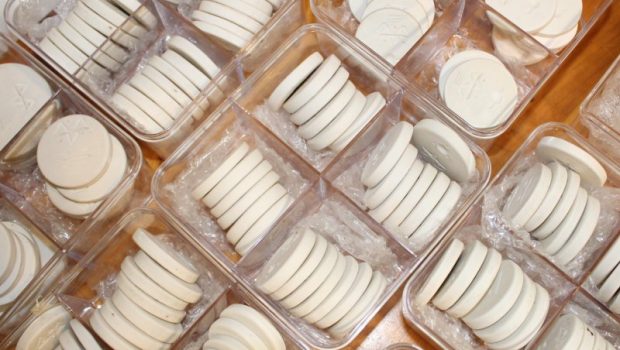 Published on March 31st, 2019 | by Susan Bischak
0
Using Biosyntonie to Balance the Body
by Susan Bischak
Biosyntonie is a phenomenon in an ever-expanding field of healing modalities. It can be called crystal healing because there are crystallized materials embedded in the ceramics used, but it's in a class all it's own. Ter de Lys is the company in France that creates these amazing ceramics, and Pierre Nicholas is the creator. He and his sons are the only people who know just what the crystalline materials are and all the science behind how they work to balance the human body. He uses quantum physics and the natural environment as his guide.
A Biosyntonie session works with the Shumann resonance of the Earth, the planet's "heartbeat" which keeps all living systems on earth in balance. When the body is not in balance, disease, pain, dysregulation of biorhythms and other physical issues can occur. Having studied the Tao and other Eastern philosophies, Nicholas knows the body needs balancing on all levels: body, mind and emotions.
Biosyntonie ceramics focus the Shumann resonance on the body, creating vortexes; swirling, natural Earth energies that collide with manmade waves in our environment. Microwaves, electrical wiring, appliances, cell tower communications and smart meters are everywhere, and our bodies were never designed to deal with them. Awake or asleep, in and out of our homes, this goes on 24/7. It has been long suspected that this disrupts the normal biorhythms that keep people healthy.
A Biosyntonie session consists of having the ceramics placed on and under the body, or away from the body altogether. Each session is a minimum of 20 minutes in length, which is the time needed to circulate the energy through the water in the body. A longer session can last 40 minutes. Biosyntonie is totally regulated and guided by the human body, not the practitioner. The energy is often felt moving to one area, and then to another part of the body, in order to bring it up to the vibratory level of health. Everything is a vibration, including perfect health.
Susan Bischak is a Biosyntonie practitioner and Gia Wellness consultant. For more information, call 973-838-7211 or call SusanBischak.com.