Recipes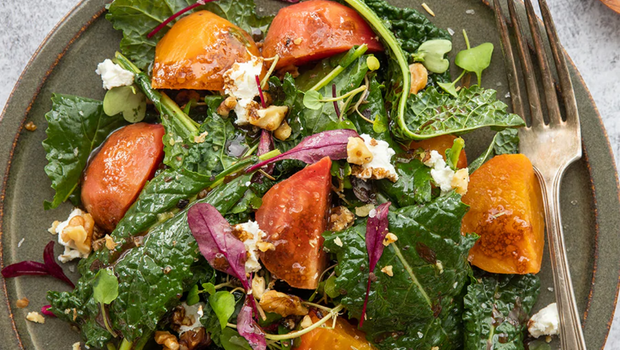 Published on September 27th, 2022 | by Natural Awakenings Publishing Corp.
0
Kale and Beet Salad with Balsamic Vinaigrette
For the salad:
1 bunch kale
3-4 medium beets
⅓ cup roasted walnuts, chopped
½ cup goat cheese
Pinch of salt
1-2 pinches of microgreens
For the dressing:
1 Tbsp Dijon mustard
½ tsp fine sea salt
½ tsp freshly crushed black pepper, finely ground
¼ cup balsamic vinegar
¾ cup extra-virgin olive oil
For the beets:
Add beets to a full pot of water and bring to a boil, cooking them until they are fork tender. Remove beets from stove and drain into a colander. Run cold water over them to cool slightly. Remove the skins with a paring knife and/or fingers. Slice into quarters.
For the dressing:
In a small mixing bowl, whisk together the balsamic, mustard, salt and pepper. Add the oil and whisk thoroughly to combine. Continue whisking until the dressing is fully emulsified.
For the salad:
Combine kale, beets, walnuts and 2 Tbsp dressing in a bowl and mix. Add a pinch or two of microgreens. Add the goat cheese by breaking it into small pieces. Add a pinch of salt and serve.
Note: Store any extra dressing in an airtight container and place in the refrigerator. Use within 7 days.
Recipe by The Chef's Garden.